Flying at Cohuna located near the Vic boarder close to Echuca and our famous Murray River yet again proved a fantastic event. All who participated had a ripper weekend enjoying great camaraderie, great hospitality by the host club, great racing and perfect weather.
Friday saw several modelers preparing and fine-tuning in perfect conditions and we all found it very hard to believe the weather forecast for the weekend was 20 & 21 degrees with light winds. Well the weather Gods rolled up and proved that Willy Weather was spot on the money!

Almost zero degrees at sunrise saw a few dusty pilots and callers after several beers and Shiraz at the local pub. Racing commenced around 10:00am with 4 rounds of F400 and John Schmidli's maiden flight racing his new El Bandito in his infamous striking green artwork. Probably the most significant point noting here is that this new model was actually drawn up by John and I'm sure a very proud moment upon take off and also only a few seconds off the fastest times of the weekend.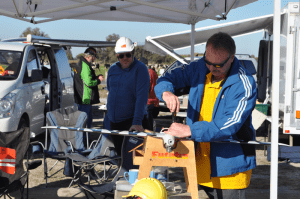 Racing was tight and the usual dynamic duo of Brian Steele and Andrew Davies also commonly recognized as Laurel and Hardy, flying hard all morning producing great times. As usual the ever reliable Glenn and Gary flew great with Glenn posting the quickest time of the day with 68.86 seconds. Again John's third flight was on the money and only a few seconds behind. Great to see George Angelov returning back to racing who will be picking up the pace over the coming events. Jimmy donated engine parts to Steeley who reportedly put a liner back in with a hammer and test flying till dark– on ya Brian!
Q500 was next with a variety of pilot experience. Again numbers were down as the regulars struggled to attend due to work commitments. Jimmy was in fine form posting the quickest time of the day of 97.60 seconds closely followed by John. Andrew posted his PB of 104.49 seconds and showed a few signs of some improvement after a grilling from Dannmann "pull it in Dad pull it in– where the hell are you going".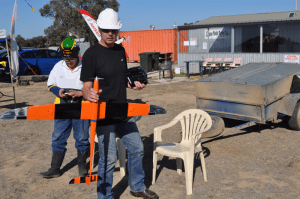 Great to see Alan Swift at the event giving F5D a go, a few minor technical improvements will see Alan in the mix at AMPRA.
The club hosted a great BBQ lunch as always and a few pilots took the opportunity throughout the afternoon basking in the sun on the take off mats whilst waiting for take offs' and landing by real size aircraft at the nearby aerodrome. Great to see James Hurley and his wonderful family visiting for a few hours as spectators enjoyed the great weather and flying!
F3D followed the lunch break with T-shirt's on and light winds. With 6 pilots in the mix, the Minute Masters powered by the ever reliable Murphy combo of prop's, set-up and tuning saw Daniel recording his PB and fastest time of the day of 58.96 seconds and Baz in second place. Dan has packed his favourite 3 models away for the WC but raced his number 4. Looks like the Murphy fuz and the Big Bruce wing are a great match! Lots of fun and friendly rivalry also reported on the line with Andrew D, Steeley and Baz all in fine form!
The day ended with a few cold beers followed by a great meal in the local pub.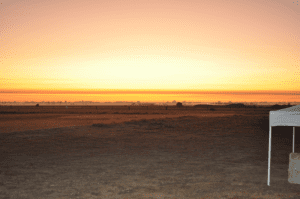 Day 2, the sunrise was spectacular on the field and a great pic posted by John as the fresh scent of Kransky's, rashes of bacon, eggs and toast drifted through a few lucky pit areas.
F400 kicked off the racing day in perfect weather conditions with Andrew Davies in the lead posting very consistent sub 70's times. Glenn yet again flew the best time of the day of 66.85 seconds also recording the fastest time of the weekend. Unfortunately Gary lost his new model GR7 due to technical issues.
The F400 event ended with great racing all weekend as final results for the top 3 were only 2.5 seconds apart after 8 rounds. Subsequently Glenn holds a strong position in 1st place for the season championships with only one event remaining in the VMPRA calendar.
Q500 was up next with Jimmy and John posting great times in round 5. Round 6 saw Jimmy posting 95.51 seconds being the fastest time of the weekend then moving into a win. John cruised into second place with Andrew posting his PB in round 8 and holding onto a solid 3rd place.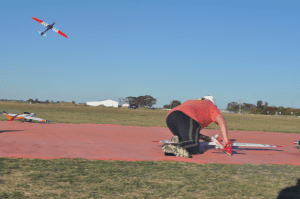 After lunch saw F3D flying in great sunny conditions. Cohuna members and modelers alike clearly were enjoying the afternoon racing and all judges doing a fine job the whole weekend.
Unfortunately in round 5 and first heat of the afternoon both Glenn and Brian had a thumping mid air after flying around #1 destroying both models leaving only 4 pilots for the last 3 rounds. Baz propped up and pulled it in around one and recorded great times firming up second place for the weekend as Andrew stepped up the pace in his Dannmann Veyron. Daniel posted the best time of the day with 59.89 seconds on his last flight of the day and resulting in his first win in F3D.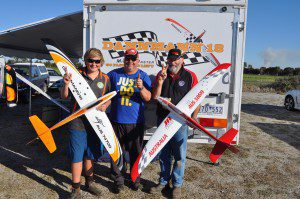 The day concluded with presentation time and lots of fun had by all. Baz also had great words at the wrap up, with great wishes and fine words of encouragement for Dannmann as the journey, practice and preparations are all now paying off.  Well done Baz as your 1st Class commitment to F3D and your contributions have produced 1st Class results! Dannmann responded with a heart felt smile thanking Uncle Baz for all his hard work done in the background to produce success.  The VMPRA season champs are almost over for the year and now Daniel extends his F3D lead by 4 points with one more race to go at his favourite field!
Well done to all pilots, callers, members, helpers and to the famous Cohuna club who made the effort to attend, as the weekend was definitely one to remember!
Event Report Writer – Anonymous
ED – Thanks to Anonymous for a great event report. I'm always looking for additional help with reports, photos other items for addition to the website
Check out the event photo gallery>>>
Results – FA1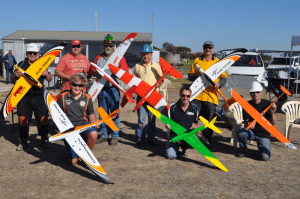 Places:
1st Daniel Arapakis
2nd Barry Murphy
3rd Andrew Davies
Fastest Time: 58.96 – Daniel Arapkis
No. of competitors: 6
Course – 10.5 Laps
Results – F400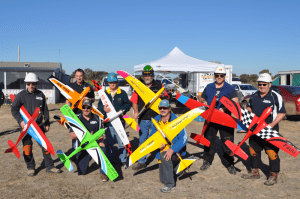 Places:
1st Andrew Davies
2nd Glenn Matthews
3rd Brian Steele
Fastest Time: 66.85 – Glenn Matthews
No. of competitors: 7
Course – 10.5 Laps
Results – Q500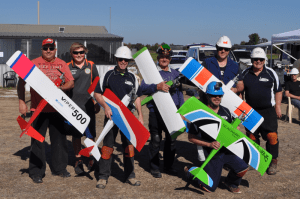 Places:
1st Jim Orenshaw
2nd John Schmidli
3rd Andrew Arapakis
Fastest Time: 95.51 – Jim Orenshaw
No. of competitors: 5
Course – 10.5 Laps
The following is how the season championship stands currently.
FA1
So we are down to only 1 event left for FA1 for the 2014-2015 seasons championship which is to be a big event all round at Munro. No change in the order with the top 3 positions but Daniel has firmed up his position at the top with the only threat to him being Glenn only 4 points behind.
1 – Daniel Arapakis
2 – Glenn Matthews
3 – Andrew Davies
F400 – Results
Again, no change at the top 3 positions but all of them have a mathematical chance of wining the F400 season championship with only the Munro AMPRA event to go.
1 – Glenn Matthews
2 – Andrew Davies
3 – Brian Steele
Q500 – Results
For Q500, there are still 2 more events to go being AMPRA at Munro and then a 1 day event at Werribee in July. John Schmidli is now 17 points ahead but both Tom Wetherill and Jim Orenshaw are still in the hunt. James Hurley has now dropped from 3rd to 4th position after missed a couple of events.
1 – John Schmidli
2 – Tom Wetherill
3 – Jim Orenshaw
Next Event
It's not long to go and it's a big one with the next event being the AMPRA Champs and also an F5D World Championship selection event. It will also be the last time we'll see some if not all of the F3D World Championship team before they head off to the Czech Republic for the F3D World Champs. So this will be the event to be at with what should be a good gathering of local and interstate flyers at the best field on our calendar. Andrew Arapakis will also be putting on one of his renowned feeds on the Saturday night at the field but numbers will be limited. An email will be going around to get numbers for this so stay tuned.
For more information on the AMPRA Championship and F5D election event.
Check Out Complete Calender >>>
Event Report – Anonymous.
Additional content – John Schmidli
Photos – John Schmidli
The written content in this post is accurate to the best of my/our knowledge at the time of publishing. It is written from my perspective and reflects how I have experienced this event.
Photos published as feature images are selected purely for their quality, general interest or topicality. They are chosen from a pool of photos taken by myself and others when time permits.
If a perspective is not being represented, I am more than happy to publish any written content or photos that are supplied to me provided it is fair and reasonable.