As of the VMPRA 2022 AGM, the season championship runs in line with a calendar year. Prior to this, the championship was from our usual AGM competition in July/August until the competition before the next AGM. Unless otherwise specified in the event calendar, all VMPRA events plus AMPRA, if held in Victoria, are included in the Championship.
The championship positions are worked out as follows:
Positions are established by the allocation of championship points earned for each event.
Championship points are allocated 10 down to 1(10 points for 1st place, down to 1 point for 10th). 11th place and below are also allocated 1 point each for those who attend and pay entry.
For competitors with equal championship points, places will be sorted by:

The number of events attended. As we are encouraging more regular attendance, the competitor with more attendance will be placed high than someone with less attendance for the same points.
If competitors have equal championship points and event attendance, an average time for all rounds recorded for the season (drop rounds not included) will be used. A lower average time would put you ahead.

If an event is not started or completed with results due to rain or extreme wind conditions and entries have been taken, 1 point will be awarded to each competitor.
Below is a summary of the 2022 – 2023 season Championship positions. For more details, view this PDF.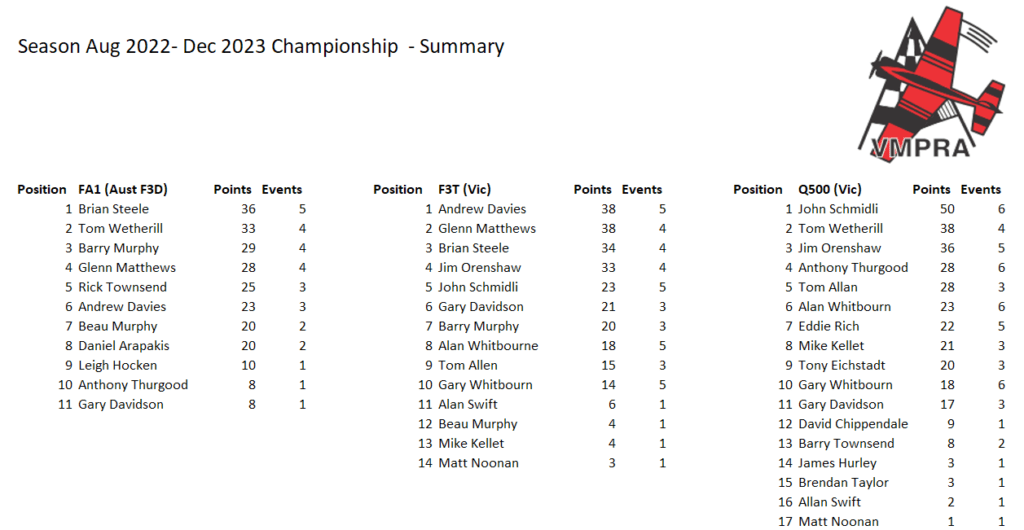 Click the table to enlarge
Last Updated May 20, 2023
Previous Championship Winners


Check out the 2018-2019 season winners.


Check out the 2017-2018 season winners

Check out the 2016-2017 season winners

Check out the 2015-2016 season winners

Check out the 2014-2015 season winners

Check out the 2013-2014 season winners