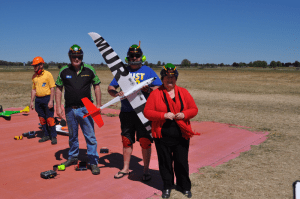 I was great to be back racing at Cohuna once again after a break of a year to celebrate 40 year of this great club hosting pylon racing in Victoria. The VMPRA has always regarded the Cohuna Club as the home of pylon racing.
We had a good turn-out of competitors including the interstate guys from South Australia & New South Wales and we were blessed with terrific weather. Lots of club members, locals, photographers and even a local councilor visited to watch proceedings.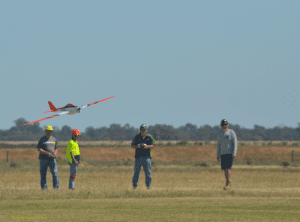 The Cohuna club was so supportive of this event that we had enough helpers to run a 10 lap course rather that the usual 10.5 laps. There were some very fast times and even an Australian record for F400 was broken by Shaun Jacobsen with a 61.60 sec.
Check out the event photo gallery>>> 
Results
Places:
1st Shaun Jacobsen
2nd Barry Murphy
3rd Brian Steele
Fastest Time: 56.32 (10 lap course) – Daniel Arapakis
No. of competitors: 10
Class – F400
Places:
1st Shaun Jacobsen
2nd Andrew Davies
3rd Jarrod Jacobsen
Fastest Time: 61.60 (10 Lap Course) – Shaun Jacobsen
No. of competitors: 9
Places:
1st Jim Orenshaw
2nd John Schmidli
3rd Gary Davidson
Fastest Time: 94.17 – John Schmidli
No. of competitors: 5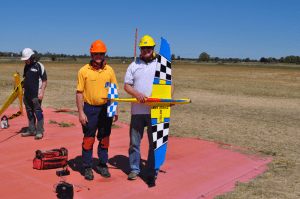 This was the first event for the new 2017-2018 Season Championship.
1st – Brian Steele
2nd – Glenn Matthews
3rd – Rick Townsend
1st – Andrew Davies
2nd – Brian Steele
3rd – Glenn Matthews
1st – Jim Orenshaw
2nd – John Schmidli
3rd – Gary Davidson
Check Out Season Championship >>>
Next Race
The next race on the calendar is at Bazza's paddock at Munro on Nov 11-12.
Check Out Complete Calendar >>>
Event Report and Photos – John Schmidli
Additional photos – Tegan Clifford
The written content in this post is accurate to the best of my/our knowledge at the time of publishing. It is written from my/our perspective and reflects how I/we have experienced this event.
Photos published as feature images are selected purely for their quality, general interest or topicality. They are chosen from a pool of photos taken by myself and others when time permits.
If a perspective is not being represented, I am more than happy to publish any written content or photos that are supplied to me provided it is fair and reasonable.