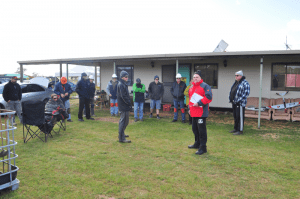 After a long break in racing, the last event being back in May, the VMPRA held it's first event at Rick Townsend's purpose built pylon racing field in Newbridge. Rick has been setting up and developing this field over the last few years with the ambition of holding regular pylon racing events there.
We were blessed with some superb weather, particularly on the Sunday with temperatures of zero and below when we first arrived at the field, but with clear blue skies, it was t-shirt weather by lunch time.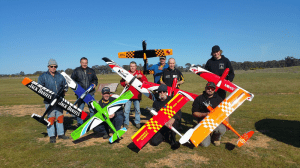 Numbers were a little down on usual with the post world championship hang-over. Barry Murphy was suffering with the flu and had to return home on Saturday morning and Leigh Hocken also had to pull out due to illness. On the plus side it was great having father/son team Matt & Xavier Noonan there for the weekend flying Q500 and also Steve & Jo Taylor put in a big effort, coming down from Queensland. Steve was debuting his brand new F3D racer, the "Vector" which had only just been test flown the week before. They also left a bunch of models down here with some great bargains to be had. It was also great to have Rick flying with us again after a long break and he was certainly on it right from the start and ended up taking out 1st place in FA1.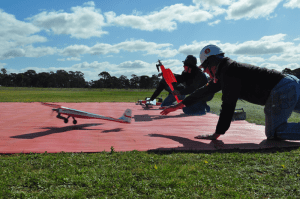 Racing on both days comprised of F400, FA1 and Q500 as the last class for the day and all flew 8 rounds by the end of the weekend. We finished nice and early on the Sunday and finish, packed up and presented certificates and left around 3pm.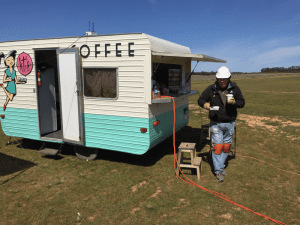 I think we would all say the flying at Rick's field was very enjoyable. The field setup was great and the hospitality was 2nd to none with Rick and Ozzie's Coffee van being on-site and along with Barry Townsend, were selling some very nice "really" coffees plus homemade food.
Check out the event photo gallery>>> 
Results
Places:
1st Rick Townsend
2nd Tom Wetherill
3rd Steve Taylor
Fastest Time: 57.97 – Daniel Arapakis
No. of competitors: 7
Class – F400
Places:
1st Andrew Davies
2nd Brian Steele
3rd Glenn Matthews
Fastest Time: 65.18 – Andrew Davies
No. of competitors: 6
Places:
1st Jim Orenshaw
2nd John Schmidli
3rd Alan Whitbourn
Fastest Time: 93.14 – John Schmidli
No. of competitors: 7
This was the first event for the new 2017-2018 Season Championship.
1st – Rick Townsend
2nd – Tom Wetherill
3rd – Steve Taylor
1st – Andrew Davies
2nd – Brian Steele
3rd – Glenn Matthews
1st – Jim Orenshaw
2nd – John Schmidli
3rd – Alan Whitbourn
Check Out Season Championship >>>
Next Race
The next race on the calendar is at Cohuna on October 14-15 which will include the VMPRA AGM on the Saturday night.
There has been a bunch of dates added to the calendar for 2018, so make sure you make a note of these dates.
Check Out Complete Calendar >>>
Event Report and Photos – John Schmidli
Additional photos – Andrew Arapakis
The written content in this post is accurate to the best of my/our knowledge at the time of publishing. It is written from my/our perspective and reflects how I/we have experienced this event.
Photos published as feature images are selected purely for their quality, general interest or topicality. They are chosen from a pool of photos taken by myself and others when time permits.
If a perspective is not being represented, I am more than happy to publish any written content or photos that are supplied to me provided it is fair and reasonable.