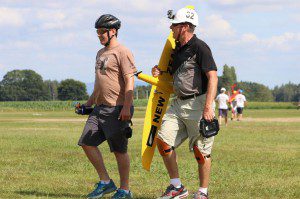 The New Zealand Nationals were held at the Waharoa Airfield near Matamata in early January 2015 and four pylon classes flown on Monday 5 January at the RC1 flying area. There has been a resurgence of interest in pylon racing in New Zealand recently and this event attracted a very good number of entries.  There were many "old hands" present as well as many newcomers.

The racing consisted of flying 10 laps of the triangular FAI course – with up to three planes in each heat.  Five rounds were flown, with one score being dropped.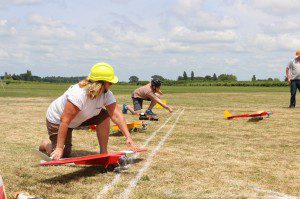 In the morning Q500 Sport and Q500 Expert classes were flown.  The Sport class attracted an impressive 17 entries and there was plenty of close racing.  The most popular model was the Viper and there were also a number of airframes.  The most popular engines were OS 46 AX and Thunder Tiger Pro 46.  The class was won by Tom Wetherill with a score of 399.7.  Paul Clausen was second with a score of 413.6 and Ron Stone was third with a score of 421.7.
The Expert class attracted six entries and featured some exciting racing.  The most popular model was the V-Gun, powered by a Nelson long-stroke engine.  John Danks had stiff competition from Frazer Briggs and finished first with a score of 293.0.  Frazer was second with a score of 300.0 and Paul Clausen was third with a score of 335.2.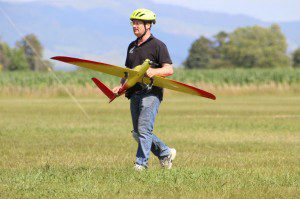 In the afternoon, Sportsman and F3D were flown.  Sportsman attracted eight entries and a variety of aircraft types.  Paul Clausen finished in first place with a score of 375.7.  Jarrod Briggs was second with a score of 407.3 and Andrew Palmer was third with a score of 424.5.
The last and fastest class was F3D, which attracted three entries.  An engine failure meant that only two models were able to compete.  Tom Wetherill flew a new Veyron and finished first with a score of 258.1 and John Danks flew a VooDoo and was second with a score of 265.9.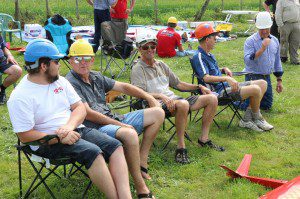 At the end of the day trophies were handed out to all the placegetters.  Special thanks go out to John Danks for CD'ing the event, to Adam Buther and Noeline Craighead for working as starters, Mike Briggs and the and his fellow club members in the Matamata-Piako MAC for all their work preparing the fields and to everyone else who helped with running the event by working as timers and cut judges.
Report – Tom Wetherill
Photos – Tom Wetherill
Gallery Page >>>
The written content in this post is accurate to the best of my/our knowledge at the time of publishing. It is written from my perspective and reflects how I have experienced this event.
Photos published as feature images are selected purely for their quality, general interest or topicality. They are chosen from a pool of photos taken by myself and others when time permits.
If a perspective is not being represented, I am more than happy to publish any written content or photos that are supplied to me provided it is fair and reasonable.