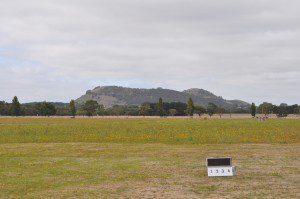 The VMPRA 2015 season got underway on the weekend of 7 – 8 February at the Corangamite Model Aircraft Club in Camperdown, VIC. The event is a favourite amongst the VMPRA members and the host club members were out in force to help out with working the course and supplying great food and refreshments over the weekend. The flying field, which is located in the centre of a horse racing course, was in good condition due to recent summer rainfall.

There was a good turnout on Friday as pilots wanted to get some practice after the summer break. However, a hot northerly wind was blowing and the temperature at the field pushed past 40 degrees during the afternoon…so most chose to adjourn early, opting for glider flying at the nearby volcanic crater, rest and cool refreshments.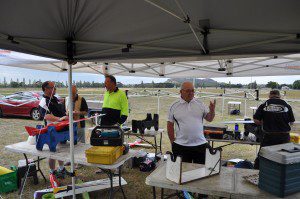 On Saturday morning, the course was set up during the curfew period while the horse training was underway. The northerly wind continued but the temperature was in the low to mid 30's – slightly cooler than the previous day. The plan for the weekend was to run eight rounds of each class – F400, Q500 and FA1 – with the two worst scores to be dropped. Racing was over 10 ½ laps per usual VMPRA practice as this reduces the number of workers required to run the event.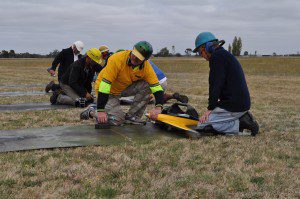 Racing got underway late morning and three rounds of F400 were flown. This class attracted eight entries and but this was reduced after a mid-air during round two. Brian Steele took an early lead and had posted the best time of 70.77. Times were not spectacular, due to the heat.
Next up was Q500 and this class attracted six entries and three rounds were also flown. There was some close racing and unfortunately the field in this class was also depleted due to another mid-air. After three rounds Tom Wetherill was in the lead with the best time of 96.80. Andrew Arapakis has been improving under the guidance of son Daniel and he posted a personal best time of 108.83.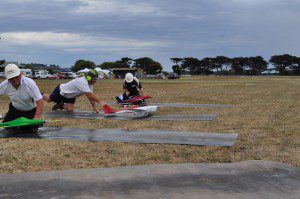 The main event – FA1 attracted a good turnout with 10 entries. Five rounds were flown to complete racing for the day. The cut judges were kept very busy during the first two rounds and some pilots were still tuning for the conditions. As a result, there were many 200's on the board. At the end of the afternoon, Leigh Hocken was in the lead and had the best time of 60.78.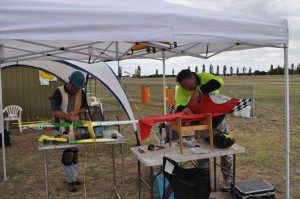 During the evening a storm front came through (this is Victoria!) and on Sunday there was a cool breeze from the south. This required that the course be changed and after this was done the remaining five rounds of F400 were flown. At the completion of eight rounds, Brian Steele was in first place with a score of 414.3 and the best time of 64.79. The cooler conditions helped and he was more than 5 seconds quicker than the previous day. Team mate Andrew Davies was second with a score of 430.7 and Gary Davidson was third with a score of 433.5. Andrew and Gary also improved their times by about 5 seconds from the Saturday.
The remaining five rounds of Q500 were flown next and the close racing continued. In the end, Tom Wetherill was in first place with a score of 580.3 and had the fast time of 94.73. James Hurley was second with a score of 620.1 – just edging out arch rival and team mate John Schmidli, who was third with a score of 623.6.
The last event was the completion of the final rounds of FA1 and Leigh Hocken put in some very impressive and aggressive flying to finish in first place with a score of 367.5. Glenn Matthews was a distant second with a score of 407.7. He was followed closely by Barry Murphy with a score of 412.6. Beau Murphy posted the fastest time of 58.43. Daniel Arapakis was flying very impressively against the veterans, but unfortunately lost a model trying to keep up with Leigh.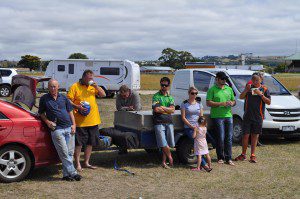 A prize giving ceremony was held following completion of racing and VMPRA thanked Foster Taylor and the Corangamite club for hosting the event and for providing great food over the weekend. Special thanks were also given to the club members for helping work the event, as well as to Toni Axon for starting, David Axon for serving as a cut judge (and awarding the most cuts) and to Nerida Matthews for running the computer system and taking care of the administrative side of the event.
Report – Tom Wetherill.
Check out the event photo gallery>>>
Results – FA1
Places:
1st Leigh Hocken
2nd Glenn Matthews
3rd Barry Murphy
Fastest Time: 58.43 – Beau Murphy
No. of competitors: 10
Course – 10.5 Laps
Results – F400
Places:
1st Brian Steele
2nd Andrew Davies
3rd Gary Davidson
Fastest Time: 64.79 – Brian Steele
No. of competitors: 8
Course – 10.5 Laps
Results – Q500
Places:
1st Tom Wetherill
2nd James Hurley
3rd John Schmidli
Fastest Time: 94.73 – Tom Wetherill
No. of competitors: 6
Course – 10.5 Laps
Season Championship
As we start the 2nd half of the season championship, the following is how the top 3 positions sit.
FA1
Glenn Matthews bumped Andrew Davies from the top position and Daniel has jumped up from 5th to 3rd position.
1 – Glenn Matthews
2 – Andrew Davies
3 – Daniel Arapakis
F400 – Results
The opposite to FA1, Andrew Davies has bumped Glenn Matthews from the top position down to 2nd place and like Daniel in FA1, Brian Steele has jumped from 5th to 3rd place.
1 – Andrew Davies
2 – Glenn Matthews
3 – Brian Steele
Q500 – Results
No position changes for the top 3 in Q500
1 – John Schmidli
2 – James Hurley
3 – Tom Wetherill
 Next Event
Next up is Munro on Feb 28/March 1st for the full 3 class event.
Check Out Complete Calender >>>
Event Report – Tom Wetherill.
Additional content  – John Schmidli
Photos – John Schmidli and Andrew Arapakis
The written content in this post is accurate to the best of my/our knowledge at the time of publishing. It is written from my perspective and reflects how I have experienced this event.
Photos published as feature images are selected purely for their quality, general interest or topicality. They are chosen from a pool of photos taken by myself and others when time permits.
If a perspective is not being represented, I am more than happy to publish any written content or photos that are supplied to me provided it is fair and reasonable.