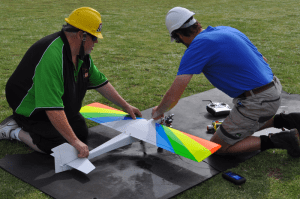 VMPRA's last event for 2016 was in December back down at Munro.
Unfortunately there was no report written up for the event so, this post contains the basic results & championship standings.
Check out the event photo gallery>>> 

Results
Places:
1st Leigh Hocken
2nd Barry Murphy
3rd Daniel Arapakis
Fastest Time: 58.78 – Leigh Hocken
No. of competitors: 7
Class – F400
Places:
1st Ranjit Phelan
2nd Barry Murphy
3rd Glenn Matthews
Fastest Time: 68.13 – Ranjit Phelan
No. of competitors: 7
Class – Q500
Places:
1st Jim Orenshaw
2nd David Chippendale
3rd Andrew Arapakis
Fastest Time: 97.52 – Jim Orenshaw
No. of competitors: 5
Leigh Hocken has remained in top spot, Daniel Arapakis and Andrew Davies both moved up 1 position.
1st – Leigh Hocken
2nd – Daniel Arapakis
3rd – Andrew Davies
Ranjit Phelan popped up from 5th to top spot. Andrew Davies and Jim Orenshaw remained in the 2nd & 3rd positions
1st – Ranjit Phelan
2nd – Andrew Davies
3rd – Jim Orenshaw
Q500
Jim Orenshaw & Gary Whitbourn have remained in first and second places respectively but Ian has now moved up into 3rd position.
1st – Jim Orenshaw
2nd – Gary Whitbourn
3rd – Ian Rickard
Check Out Season Championship >>>
Next Race
The first race for 2017 is a Sports & Q500 event to be held on Jan 22 at the Westernport Model Aircraft Club. Looks like we'll have a really good turn-out. There is always a good amount on Sport flyers there and the Q500 pilots look to be coming out in force.
Only 2 weeks later and we have our first full 3 class event at Camperdown on Feb 4th – 5th. So it all starting up for another year with the F3D world champs thrown in as well.
Check Out Complete Calendar >>>
Event Report and Photos – John Schmidli
The written content in this post is accurate to the best of my/our knowledge at the time of publishing. It is written from my/our perspective and reflects how I/we have experienced this event.
Photos published as feature images are selected purely for their quality, general interest or topicality. They are chosen from a pool of photos taken by myself and others when time permits.
If a perspective is not being represented, I am more than happy to publish any written content or photos that are supplied to me provided it is fair and reasonable.