On May 28-29, the VMPRA headed off to Barry Murphy's fantastic purpose-built pylon racing field at Munro.
On arrival on Saturday morning, I was struck by how many people were camping out at the field with a plethora of vans, trailers and tents all set up.

We couldn't have picked a better weekend for the weather. It was mostly clear skies, mild temperatures (once the sun was up) and light breezes.
There was a good amount of entries with 7 x Q500, 7 x F3T & 5 x F3D entries, plus a good amount of spectators. It was a pleasure not having trouble getting helpers; hence all racing was carried out with a full complement of pylon judges.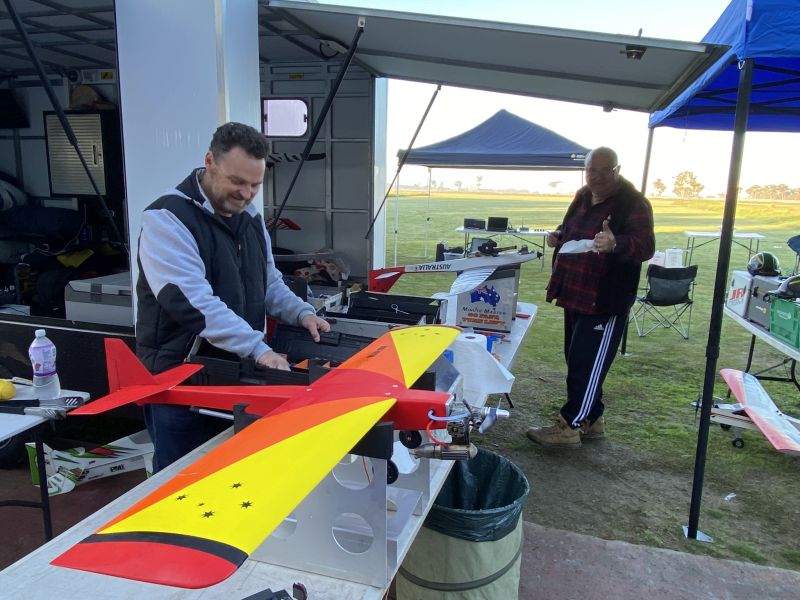 We carried out 8 rounds of each class and there was some excellent racing, particularly at the top of the tables. The race results pretty much tell the story of the racing for the weekend.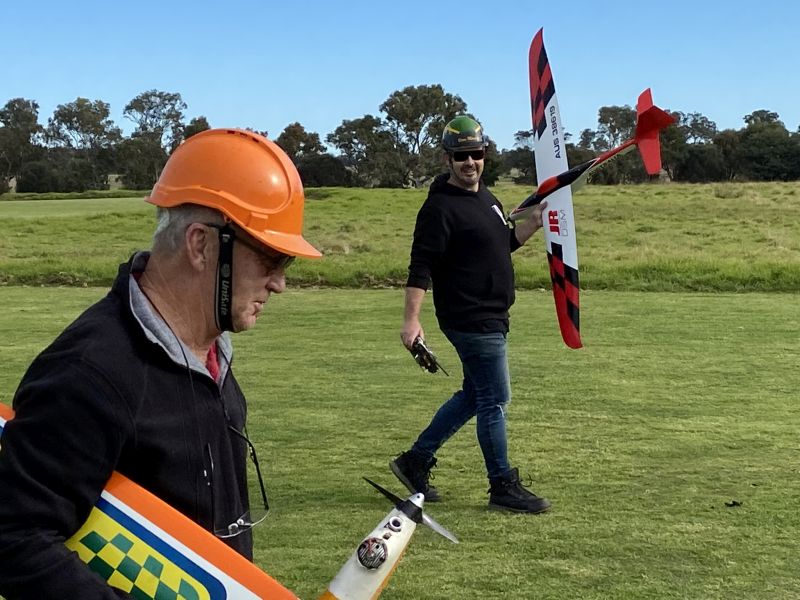 Other than that, it was an enjoyable and social weekend and although I wasn't there on the night, I believe there was a great feed put on, as usual, by Andrew Arapakis and Matt Noonan's band was a big hit. This is something new to pylon racing for us. Good one Matt.
Results
Class – FA1
Places:
1st Beau Murphy
2nd Daniel Arapakis
3rd Rick Townsend
Fastest Time (Red Box): 58.55 Beau Murphy
No. of competitors: 5
Class – F3T
Places:
1st Beau Murphy
2nd Barry Murphy
3rd Brian Steele
Fastest Time (Red Box): 61.63 Beau Murphy
No. of competitors: 7
Class – Q500
Places:
1st Jim Orenshaw
2nd David Chippindall
3rd John Schmidli
Fastest Time (Red Box): 95.40 David Chippindall
No. of competitors: 7
Season Championship
At this stage, it looks like these are the final positions for this season's championship as we would be holding our AGM at the next event, Cohuna making that event the start of the new 2022-2023 season.
FA1
After Beau's win this weekend, he's popped up from 3rd position into 1st place pushing both Brian and Tom down a place into 2nd and 3rd respectively.
1st – Beau Murphy
2nd – Brian Steele
3rd – Tom Wetherill
F3T
Jim has remained at the top 10 points ahead of Barry who has jumped up into 2nd place from 5th and Brian has moved up into 3rd place from 4th.
1st – Jim Orenshaw
2nd – Barry Murphy
3rd – Brian Steele
Q500
There was no change in places since the last race at Echuca with Jim strengthening his lead, 8 points ahead of John.
1st – Jim Orenshaw
2nd – John Schmidli
3rd – Gary Whitbourn
Next Race
The next race meet will be on August 13-14 at the home of pylon racing in Victoria, Cohuna. I hope to see you all there.
Report – John Schmidli
Photos – Sarah Doyle, Andrew Arapakis & John Schmidli
Please note: We are looking for people willing to write event reports or photograph the events. This is important and valuable to pylon racing in Victoria, Australia and Worldwide as this site has a vast readership.
The written content in this post is accurate to the best of my/our knowledge at the time of publishing. It is written from my/our perspective and reflects how I/we have experienced this event. Photos published as feature images are selected purely for their quality, general interest or topicality. They are chosen from a pool of photos taken by myself and others when time permits. If a perspective is not being represented, I am more than happy to publish any written content or photos that are supplied to me, provided it is fair and reasonable.
Quick Reference