The last VMPRA event for this calendar year was held at Munro (near Bairnsdale) at Barry Murphy's superb, purpose built, pylon racing field. We usually get a good turn-out for events at this venue but as usual only the weather can put a dampener on it. Well, this was literally the problem. Showers on Saturday & Sunday stopping racing briefly until rain settled in on the Sunday afternoon bring the event to another early ending. It has been a bit of an ongoing theme this year.
Despite this there was some good racing to be had. Saturday morning was started with 4 rounds of F400 followed by 4 rounds of Q500 and then 4 rounds of FA1. Sunday started with 3 more rounds of FA1 and then we only managed 1 round of Q500 before the rain settled in.
It was great to see James York from South Australia and Ranjit Phelan from NSW at Munro. Although Ranjit does this fairly regularly, it's great that these guys travelled such long distances to go pylon racing. Such is the passion we have for this facet of the hobby.
Results
F400
With little over a second between Andrew Davies & Tom Wetherill, it was a close result from 1st to 2nd places.
Places:
1st Andrew Davies
2nd Tom Wetherill
3rd Glenn Matthews
Fastest Time: 66.91 – Tom Wetherill
No. of competitors – 8
Course – 10.5 Lap
Q500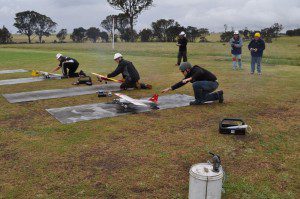 Daniel was back in fine form with a convincing win in Q500. It was unfortunate that Matt Young broke his plane on the 1st race of the week end and spent the good part of the Saturday afternoon, and Sunday morning rebuilding his plane only to have the rounds cut short by the weather so he didn't fly again for the event. It was good to see Matt back racing and now he's got a license and a car, we hope to see him more often. James York, also had a plane wrecked in the 1st round but luckily flew his backup plane for the rest of the week end.
Places:
1st Daniel Arapakis
2nd Mike Kellet
3rd Tom Wetherill
Fastest Time: 92.67 – Daniel Arapakis
No. of competitors – 10
Course – 10.5 Lap
FA1
It was good to see Ranjit back down in VIC and he was in fine form taking first place. The story of the week end for our premier class was Daniel Arapakis's first ever race in FA1. He didn't just get up there and fly around way off the course. He was attaching right from the start, not only giving Gary Davidson and Jim Orenshaw a good run for their money but beat them with a time of 67.47. Unfortunately this enthusiastic approach to his racing saw a mid-air between him and Gary later in the event. There was also a mid-air between Vern Gibson and Tom Wetherill.
Places:
1st Ranjit Phelan
2nd Barry Murphy
3rd Andrew Davies
Fastest Time: 58.93 – Ranjit Phelan
No. of competitors – 11
Course – 10.5 Lap
Check out the results in detail
2013-2014 Season Championship
FA1
Barry Murphy increased his lead from 9 to 13 points with Brian Steele and Glenn Matthews remaining in 2nd & 3rd place respectively.
F400
Gary Davidson remained in 3rd place while Andrew Davies moved ahead of Glenn Matthews into 1st position.
Q500
There was no change in positions with myself (John Schmidli) in 1st, Daniel Arapakis in 2nd and Jim Orenshaw in 3rd place, but Daniel has eaten substantially into my lead.
Next Event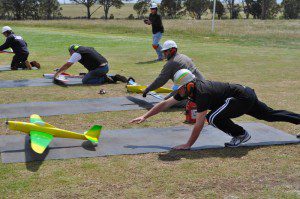 There is no other VMPRA events for the rest of the year with the first one being at Camperdown on 1st and 2nd of February (2014).
In the meantime, there is the MAAA Nationals on at Albury/ Wodonga on December 28-30, 2013. Don't forget to fill in an entry form if you going to fly at the Nats.
Check out the Event Calender for these events and all the new event entries for next year. Make sure you put them in your diary so you don't miss any of the action.
I won't be at the Nats so if anybody would like to do a report and/or photos for the Nationals, I'll put then on this site. So wishing you all a great Christmas and here's to some more fun racing next year.
John Schmidli (Report & Photos)
The written content in this post is accurate to the best of my knowledge at the time of publishing. It is written from my perspective and reflects how I have experienced this event.
Photos published as feature images are selected purely for their quality, general interest or topicality. They are chosen from a pool of photos taken by myself and others when time permits.
If a perspective is not being represented, I am more than happy to publish any written content or photos that are supplied to me provided it is fair and reasonable.