Happy New year and all the best for the 2013 pylon racing year. By now, most of us will have returned back to our usual work activities and thoughts are returning to pylon racing (if ever out of our minds!).
This year is another exciting time for the VMPRA with the AMPRA Champs being held in Victoria (Munro) on June 8, 9 & 10 plus the World F3D Championships being held in the Netherlands at the air force base Deelen from 23rd – 28th July 2013. The Australian team includes VMPRA members, Beau & Barry Murphy plus Matt Young who has a chance of attending as a junior if funds can be raised (Matt's fund raising Facebook page). There are also a number of members travelling to Europe for this event to help and spectate.
Camperdown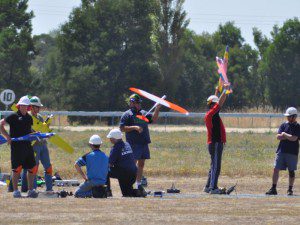 Again for this year, Camperdown is the location for our 1st competition for 2013. This is a great location for racing and it's always a pleasure to visit this town.
As usual, there are some access restrictions at times, which is important to note so as to ensure a good relationship with the turf club and continued use of this great venue into the future.
NOTE – On Saturday the "Trackwatch" turf club rep. will allow access to the flying site in-between horse movements until 10.00am when we are then actually ok to fly. We can set up inside prior to 10:00am but there is not to be any flying before then.
From 10.00 onwards it is obviously open entry. If anybody turns up on Friday, they MUST NOT ENTER the field before 11.00am. Anytime after that is fine.
On Sunday there is no horse activity.
Camping on site is ok if we keep a low profile – especially early Saturday morning.
LDMFA 50 Lap Endurance Race.
The LDMFA club is hosting a 50-lap race on Feb 17, 2013. This event is being supported by the VMPRA with members and equipment provided for running the day. The event is open to LDMFA & VMPRA members as well as members of other VMAA affiliated clubs.
There will be Quickie 500 and Sports classes. Sports will cover pretty much anything, but usually consists of 46 size trainers and other sports aircraft. Two compulsory landings are required during the 50 laps of the race.
This is a great opportunity to try pylon racing for the first time, get more experience flying around a pylon course or just have a fun day of racing.
Calendar Update
There has been a number of additional events added to the calendar so please add them to your diaries so you don't miss out on any of the 2013 events. All of the events are confirmed except for Swan Hill which is still being discussed.
Thanks to Andrew Davies for putting in the hard work of contacting the clubs and organizing the events for us to go racing this year. Without this work, there would be no events.