Monthly Archives:
September 2011

VMPRA members were well represented at this year's F3D World Championships. Not only was 2 of the 3 senior Australia team members and their callers from Victoria, but members of other national teams are members & regular flyers at VMPRA events.
Among the faces in the photo below, are many VMPRA members who spent the week helping in the many official tasks that needed to be carried out for the smooth running and the success of this event. From my point of view, it was well worth making the trip to take part in this terrific event. - John Schmidli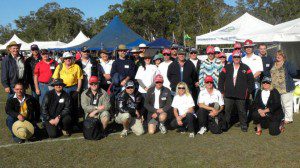 Fantastic results for our members Beau Murphy & call, Barry Murphy (2nd place) and Leigh Hocken and his caller, Frank Casella (6th place) as part of the F3D world championship winning team. Also congratulation to Chris Callow and his call Kevin Callow for their 1st place and Tyler Mees and caller, Warren Mees on 4th overall and highest Junior place.
AMPRA Report
If you had been at the Bundaberg Aeromodellers' field over the above period you would have been able to feel the very positive vibe that was surging through the Australian Camp.  This positive vibe translated into the performances of the Australian team which I believe was the "Best" we have ever achieved. Read more >>>