Well, another World Championships "done and dusted".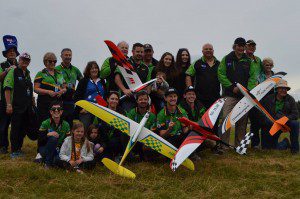 I must say that the Swedish F3D organisation ran what can only be described as a wonderful and professional event.
Congratulations to Jiri Novotny from the Czech Republic, Stefan Raven from Belgium and Thomas Eriksson from Sweden on their top results and fair sportsmanship.
First of all we were made to feel extremely welcome with no "special" laws laid down. The entire event ran smoothly with cuts registered on your lane board in real time and your time/result displayed within 5 seconds of your racer crossing the line. There was only one protest, which was dealt with swiftly. We saw the number 2 pylon destroyed on two occasions and repaired within minutes, and only a few re-runs required.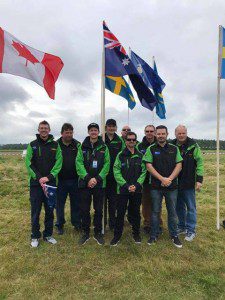 We now have a new World Champion. I must congratulate Daniel Arapakis for his Junior World Champion win. It just goes to prove that with the correct advice and help in this sport top results can be achieved. Good advice in pylon racing is not expensive. It was only 3 or 4 years ago, Danny and his Dad would hide behind a car when a F3D racer was started! Now he is a Junior World Champion. Well done Danny and Andrew also for your contribution to the Australian Team first place podium finish.
This Australian Team win is a special one. Not only is this a win on the scoreboard but a win for the type of Australian competitor.
To be a successful pylon competitor you need a few attributes…..know-how, sharp skills, cool and calm demeanor, a sense of fairness and a goodly amount of 'gung-ho' aggression. These boys have all of the above. This is what the world sees in our Australian Pylon way. This is what the world sees in us, as well as our friendly fun-loving nature.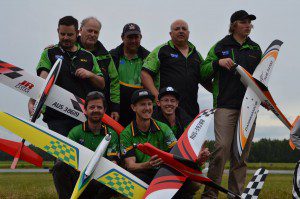 This has been seen as the Australian way in the past- I once read on the wall of the Australian War Museum in Ypres, Belgium- " The Australian soldier was found to be unpretentious, fun-loving and down to earth but we soon had to build another gaol as they were getting into too much trouble" "We soon had to release them as we realised we needed just this type of soldier" (or words to this effect).
I could have been easily reading a description of an Australian Pylon racing Team (almost).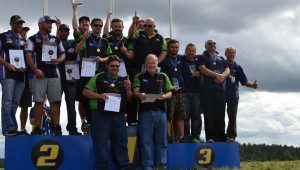 The Australian Pylon Racing Team does not get into trouble as such…their sense of 'fun' can be witnessed by all and when called on they are ready. From the quiet dry humour in the ready box to the silent sixty-second countdown, the explosive and accurate 10 laps followed by satisfied smiles…this team flew for the team…no individual self serving.
To make the Australian Pylon racing Team is an achievement in itself. No walk up starters, no place by default, each place rightly deserved. Even 4th & 5th place in our team trials would make it in most of the world teams.
The 2017 Pylon Team was a pleasure to be a part of and I congratulate them all.
I especially congratulate Danny, as it has been a pleasure to be his mentor.
Barry W  Murphy