Event Report
VMPRA held its traditional mid-winter event at the Bendigo Radio Control Aircraft Club (BRCAC) in Marong on the weekend of 1 – 2 August 2015.  A number of competitors travelled on the Friday and checked out Rick Townsend's new pylon field, which is located near-by in Newbridge.  They enjoyed fine but cold weather and all gave a "thumbs up" on the field as a future venue for competitions.


On Saturday morning everyone gathered at the BRCAC field, including the regular contingent of dedicated racers from South Australia.  The field was in excellent condition as the club had mowed it the week prior.  However, the weather was very cold and test flying could not start until the rain had cleared.
Racing finally got underway in the late morning.  F400 has proven to be a very popular class – there were 11 entries and five rounds were flown (10 ½ laps).  Shaun Jacobsen set the pace with a fast time of 68.68 and he finished in first place with a score of 280.5.  Brian Steele finished second with a score of 284.9and Glenn Matthews was third with a score of 292.6.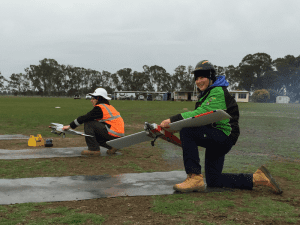 Q500 Sport was the next class to be run and there were six entries.  It was decided to run 6 rounds and to postpone FA1 until the following day, with the hope for better weather.  John Schmidli and Jim Orenshaw had a number of close races.  Andrew Arapakis was also showing good form by reducing his times significantly.  James York and John Yianni from SA were chasing hard and Matt Young's hopes came to an end when his engine parted way with the fuselage in flight.
Saturday evening involved getting a hot dinner at the local hotel, followed by the VMPRA Annual General Meeting.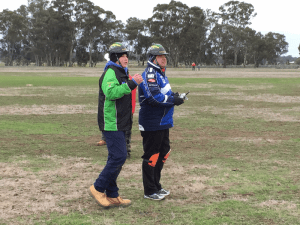 Sunday morning dawned very cold -4 degrees – but clear, so a further two rounds of Q500 Sport was flown.  John and Jim had a very specular mid-air in Round 7, and they both pulled out their back-up models so they could continue to do battle.  After eight rounds, John was in first place with a score of 621.9and Jim was second with a score of 627 and fast time of 95.97.  Andrew Arapakis finished in third with a score of 645.5 and a personal best time of 105.64.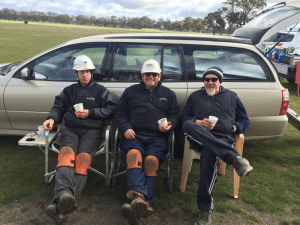 There were eight entries in FA1 and racing got underway later in the morning.  Conditions were still very cold and the wind had picked up – making conditions challenging for both competitors (toget their engines running) and for the course workers (to stay warm).  Six rounds were flown before it was decided to call it a day.  Daniel Arapakis flew very consistently and finished in first place with a score of 322.5.  Tom Wetherill finished second with a score of 467.1 – getting an extra couple of 200's due to a broken pipe.  Tom Jacobsen was third with a score of 474.0 and Ranjit Phelan posted the fastest time for the event with a 63.16.  Glenn and Brian both found the same airspace in Round 5, resulting in another spectacular mid-air.
Certificates were handed out to the place getters at the end of the day and the BRCAC club and its members were thanked for their hospitality, for helping out working the course and for the hot food that was served up throughout the weekend.  VMPRA also expressed its thanks to the SA group for travelling and supporting the event.
Check out the event photo gallery>>>
Next Event
The next event is back at what is quickly becoming the home of pylon racing in Victoria, Barry Murphy's field at Munro on August 29-30, 2015. And the great news is that Andrew Arapakis has offered to put on his superb spit roast dinner. So, make sure your planes and gear is sorted for what promises to be a good week end.
Check Out Complete Calendar >>>
Web Editing  – John Schmidli
Photos – John Schmidli
The written content in this post is accurate to the best of my/our knowledge at the time of publishing. It is written from my perspective and reflects how I have experienced this event.
Photos published as feature images are selected purely for their quality, general interest or topicality. They are chosen from a pool of photos taken by myself and others when time permits.
If a perspective is not being represented, I am more than happy to publish any written content or photos that are supplied to me provided it is fair and reasonable.