I was approaching this event with some trepidation due to the weather forecast which turned out to be justified to some degree. With the start of Spring only around the corner, wet condition had been experienced leading up to this event down at Barry Murphy's purpose built pylon racing field at Munro.


Turning up on the Friday as many did, there was a lot of standing water lying around the site making water proof shoes or gum boots essential. Some practice flying was possible during dry spells on the Friday.
Saturday morning came and conditions were very grey and windy with predictions of the wind increasing during the morning. Regardless, we went about setting up the pylon racing equipment so we could get racing started.
The first class to be racing was F400 with an unusually small number on competitor for this typically very popular class. Only 2 rounds were flown before the wind became just too strong causing excessive turbulence from the surrounding trees. Jim Orenshaw became a victim to the conditions with his plane being forced into the ground going around pylon 3.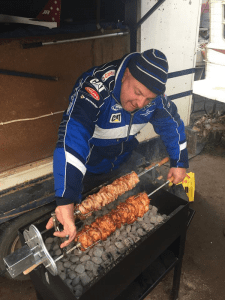 Everybody hung around the field for the rest of the day waiting to see if conditions would improve but no further racing took place. A fare bit of time was spent standing around fires chatting and supervising the dinner being cooked. I noticed that Jim managed to hang around the spit roast all afternoon taking the odd taste test!
That night we had another excellently cooked spit-roast meal prepared by Andrew Arapakis and afterwards, we had a beautiful desert prepared by Nerida Matthews. Thanks to Andrew and Nerida for a great dinner.
Sunday morning greeted up with perfect condition with blue skies and still conditions the event was on in earnest.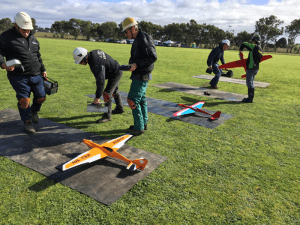 F400 was up again flying only another 2 rounds.
Q500 was up next with a view to flying 5 rounds. We had 7 competitors with the notable inclusion of a past pylon racing identity, Tom Prossor. Austin Omman was making his 2nd pylon racing appearance and father and son team Gary and Alan Whitbounre were racing also. I'm pleased to say racing was good and clean and Jim and I avoided  any coming together by calling for each other.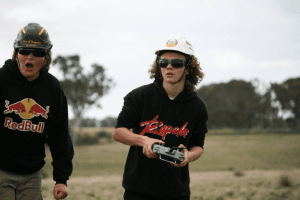 The 5 rounds on Q500 were completed fairly promptly as we left the fuel out on the racing line and we didn't need to walking back to the pits between races.
Next up was the premier class, FA1 with 5 rounds to be completed also. There was some pretty exciting racing, particularly between Barry Murphy and Leigh Hocken. Brian Steele tried burying his model, adding to Jim's hole in the field from the previous day. It was also good to see Frank Cassella back flying at this event.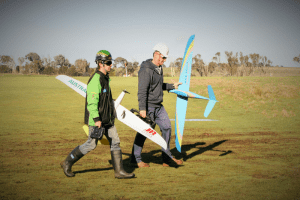 Once racing was finish, the course was packed up and the delicate task of making sure the various caravans could be extracted and placed on solid grounds was undertaken. Certificates were then presented and we all headed off home.
Although it was a challenging weekend, I think the racing on Sunday made it all worthwhile. Thanks again to Barry Murphy for providing this superb locations, Nerida and Glenn Matthews for running the event so well and Toni Axon for starting all weekend.
Check out the event photo gallery>>>
Results
Class – FA1
Places:
1st Barry Murphy
2nd Daniel Arapakis
3rd Frank Cassella
Fastest Time: 57.38 – Leigh Hocken
No. of competitors: 7
Course – 10.5 Laps
Class – F400
Places:
1st Brian Steele
2nd Frank Cassella
3rd Glen Matthews
Fastest Time: 67.25 – Frank Cassella
No. of competitors: 5
Course – 10.5 Laps
Class – Q500
Places:
1st Jim Orenshaw
2nd John Schmidli
3rd Austin Omann
Fastest Time: 98.64 – Jim Orenshaw
No. of competitors: 7
Course – 10.5 Laps
Season Championship
The following is how the season championship stands currently.
FA1
1st – Daniel Arapakis
2nd – Glenn Matthews
3rd – Barry Murphy
F400
1st – Brian Steele
2nd – Glenn Matthews
3rd – Gary Davidson
Q500
1st – Jim Orenshaw
2nd – John Schmidli
3rd – Austin Omann
Season Fastest Time
There was new fastest times in for FA1 & F400 at Munro. Well done Leigh and Frank.
FA1 – Leigh Hocken – 57.38
F400 – Frank Cassella – 67.25
Q500 – Jim Orenshaw – 95.97
Next Event
This Sunday (September 13) there is a Sports/Q500 race at LDMFA. This is not a championship event but should be fun and another good chance for newbies to be introduced to pylon racing.
Our next full weekend event is the VIC State Championships at Hamilton to be held on October 24-25, 2015.
Check Out Complete Calendar >>>
Event Report  – John Schmidli
Photos – Lydia and Andrew Arapakis and John Schmidli
The written content in this post is accurate to the best of my/our knowledge at the time of publishing. It is written from my perspective and reflects how I have experienced this event.
Photos published as feature images are selected purely for their quality, general interest or topicality. They are chosen from a pool of photos taken by myself and others when time permits.
If a perspective is not being represented, I am more than happy to publish any written content or photos that are supplied to me provided it is fair and reasonable.