It's was great going back to the home of pylon racing in Victoria, 41 years from the first pylon event at this great club. We held the VMAA State Championship on this weekend which included the 2nd F3D Australian Team Trial for next years World Championships in Queensland, Australia.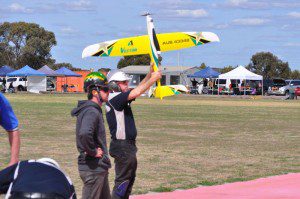 The Cohuna club always provides a full compliment of helps which is absolutely necessary for running the team trials on the 10 lap course. What a great job all the helpers did. Thanks to the Cohuna Club.
We started with 2 rounds of Q500 after a little delay getting the timing system sorted. Once the Q500 races finished, it was into the half an hour of flight testing for the F3D and then 5 rounds were run in nice sunny and warm conditions. later in the day, F400 ran 3 rounds before running out of time.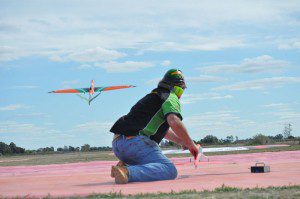 Sunday started with the remaining 3 rounds of F3D followed by Q500 and the F400 after lunch. 
The event was a great success with Andrew Arapakis and Andrew Davies CDing for the weekend plus Allan Swift running the timing systems with help from Daniel Arapakis. Great job everybody
Check out the event photo gallery>>> 
Results
Places:
1st Leigh Hocken
2nd Beau Murphy
3rd Ranjit Phelan
Fastest Time: 55.90 – Leigh Hocken
No. of competitors: 10
10 Lap Course
Results
This was a clean sweep from Team Jacobsen.
Places:
1st Shaun Jacobsen
2nd Jarrod Jacobsen
3rd Tom Jacobsen
Fastest Time: 63.66 – Shaun Jacobsen
No. of competitors: 8
10 Lap Course
This was a smaller field than usual but it was great having Robin Gray back flying pylon.
Places:
1st Jim Orenshaw
2nd John Schmidli
3rd Allan Swift
Fastest Time: 90.13 – Jim Orenshaw
No. of competitors: 4
10 Lap Course
This was only the second event for this new championship season. Being an VMAA Championships and a F3D team selection trial, it was a 10 lap course with a good amount of cut judges. We done Cohuna club!
Leigh Hocken jumps up from 8th to 2nd position after this convincing win.
1st – Andrew Davies
2nd – Leigh Hocken
3rd – Barry Murphy
1st – Andrew Davies
2nd – Jim Orenshaw
3rd – Gary Davidson
1st – John Schmidli
2nd – Jim Orenshaw
3rd – Allan Swift
Check Out Season Championship >>>
Next Race
The very next race is at the Westernport Club where there'll be a Sports & Q500 race on Oct 14. There is always a great turn out at this event and a heap of fun had.
The next 2 day/3 class event is being held on Nov 10-11 at Munro.
There have been quite a few changes to the calendar of late so make sure you have them all in your diary so as to not miss out.
Check Out Complete Calendar >>>
Event Report and Photos  – John Schmidli

The written content in this post is accurate to the best of my/our knowledge at the time of publishing. It is written from my/our perspective and reflects how I/we have experienced this event.
Photos published as feature images are selected purely for their quality, general interest or topicality. They are chosen from a pool of photos taken by myself and others when time permits.
If a perspective is not being represented, I am more than happy to publish any written content or photos that are supplied to me provided it is fair and reasonable.