What a fantastic club to go pylon racing at. With so much enthusiasm from the club members to help man the pylons, it was an absolute pleasure to race at Cohuna (the home of VIC Pylon) again.
Results
Class – FA1
Places:
1st Andrew Davies
2nd Brian Steele
3rd Leigh Hocken
Fastest Time: 59.69 Andrew Davies
No. of competitors: 3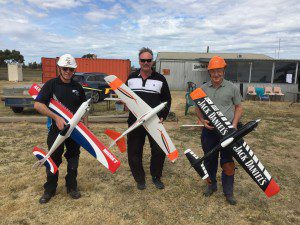 Class – F3T 
Places:
1st Andrew Davies
2nd Jim Orenshaw
3rd Brian Steele
Fastest Time: 65.10 Andrew Davies
No. of competitors: 7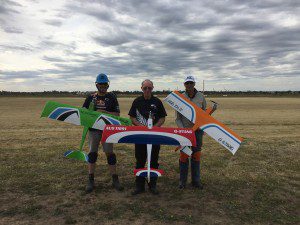 Class – Q500
Places:
1st Jim Orenshaw
2nd John Schmidli
3rd Allan Swift
Fastest Time: 93.79 John Schmidli
No. of competitors: 6
This was the first event for the new 2019-2020 season championship.
1st – Andrew Davies
2nd – Brian Steele
3rd – Leigh Hocken
F3T
1st – Andrew Davies
2nd – Jim Orenshaw
3rd – Brian Steele
1st – Jim Orenshaw
2nd – John Schmidli
3rd – Allan Swift
Check Out Season Championship >>>
Next Race
Newbridge (Rick's Field) Oct 12-13, 2019
Proposed schedule:
Friday (11/10/2019):
Saturday (12/10/2019):

8:45am Entries closed / Field Closed / Pilots Briefing / Everyone to assist with Timing System set-up etc.
9:30am Q500
Midday FA1
Afternoon F3T

Sunday (13/10/2019):
 Accommodation:
Camping is available on-site (but there is limited water for showers).  Shower facilities are also available locally in Newbridge.
Accommodation is available at Marong and Newbridge.
Check Out Complete Calendar >>>
Report  – John Schmidli
Please note: We are looking for people willing to write event reports or photograph the events. This is an important and valuable to pylon racing in Victoria, Australia and Worldwide as this site has a vast viewership.
The written content in this post is accurate to the best of my/our knowledge at the time of publishing. It is written from my/our perspective and reflects how I/we have experienced this event.
Photos published as feature images are selected purely for their quality, general interest or topicality. They are chosen from a pool of photos taken by myself and others when time permits.
If a perspective is not being represented, I am more than happy to publish any written content or photos that are supplied to me provided it is fair and reasonable.