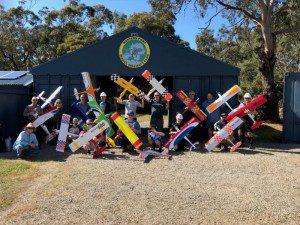 A great day was had by all at WPMAC at Crib Point back on October 14. Although numbers were a little down from usual due to some clashes, we had some fantastic weather, exciting racing and generously hosted by this great club.
Except for this excellent group shot taken by Andrew Arapakis, unfortunately there are no more photos of this event due to a setting error on the camera. Oops….. Sorry everybody!
Results
Class – Q500
Places:
1st Jim Orenshaw
2nd Tom Wetherill
3rd John Schmidli
Fastest Time: 89.72 – Tom Wetherill
Note: Not all pylon judging positions were officiated. Fastest times wont be recorded (unfortunately).
No. of competitors: 13
Results
Class – Sports
Places:
1st Tom Wetherill
2nd Cameron Sexton
3rd George Angelov
Intro text
No change at the top 3 positions but Jim has closed in on top position with only 1 point in it.
1st – John Schmidli
2nd – Jim Orenshaw
3rd – Allan Swift
Check Out Season Championship >>>
Next Race
Munro on November 10-11.
Check Out Complete Calendar >>>
Event Report  – John Schmidli

The written content in this post is accurate to the best of my/our knowledge at the time of publishing. It is written from my/our perspective and reflects how I/we have experienced this event.
Photos published as feature images are selected purely for their quality, general interest or topicality. They are chosen from a pool of photos taken by myself and others when time permits.
If a perspective is not being represented, I am more than happy to publish any written content or photos that are supplied to me provided it is fair and reasonable.