Well, it has been such a long time since we last all went pylon racing. With a false start back in February due to wet weather, the VMPRA finally re-launched pylon racing in Victoria.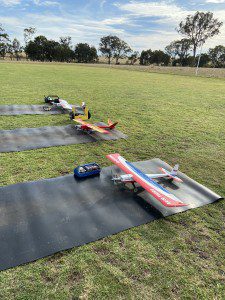 The weather was kind to us and we managed to race a complete program of 8 rounds of Q500, F3D & F3T over the weekend.
An early start and refuelling out on the line saw Q500 complete five rounds before 11 am. Next up was F3D, with four rounds and then after lunch, two rounds of f3T before a cool change came through, stopping flying for the day.
We finally held our long-delayed AGM from last year and later that night, we all enjoyed another one of Andrew Arapakis's spit roast meals.
Sunday was cooler compared to Saturday's warm and humid conditions. As a result, times were faster, with fast and furious racing by Beau Murphy and Daniel Arapakis for F3D. David Chippindall also recorded a very fast sub 90 sec time for Q500.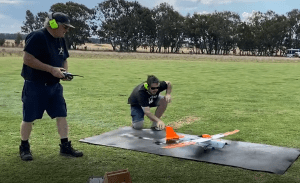 We cycled through all the remaining rounds and classes, managing to finish up by lunch. After a lunch break consisting of some very nice pizza's and left-overs from Saturday night, we packed up, held presentations and headed home.
As I said at the start, it was great to be back racing again and thanks to Barry Murphy for having us at his excellent pylon racing field.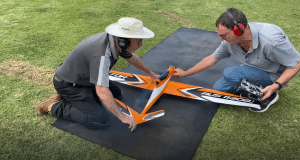 Results
Class – FA1
Places:
1st Beau Murphy
2nd Daniel Arapakis
3rd Barry Murphy
Fastest Time: 57.63 Daniel Arapakis
No. of competitors: 4
Class – F3T
Places:
1st Glenn Matthews
2nd Barry Murphy
3rd Jim Orenshaw
Fastest Time: 63.73 Glenn Matthews
No. of competitors: 7
Places:
1st David Chippindall
2nd Jim Orenshaw
3rd John Schmidli
Fastest Time: 89.76 David Chippindall
No. of competitors: 6
Next Race
There have been a few recent additions to the event calendar with more to come so make sure you pencil in the confirmed events and keep an eye out for further updates.
The next event will be held at Warrnambool on April 17-18, 2021. Hope we can get a big turn-out there for some great racing. See you then.
Check Out Complete Calendar >>>
Report  – John Schmidli
Please note: We are looking for people willing to write event reports or photograph the events. This is an important and valuable to pylon racing in Victoria, Australia and Worldwide as this site has a vast viewership.
The written content in this post is accurate to the best of my/our knowledge at the time of publishing. It is written from my/our perspective and reflects how I/we have experienced this event.
Photos published as feature images are selected purely for their quality, general interest or topicality. They are chosen from a pool of photos taken by myself and others when time permits.
If a perspective is not being represented, I am more than happy to publish any written content or photos that are supplied to me provided it is fair and reasonable.