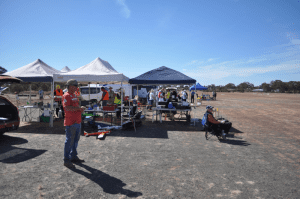 So VMPRA was off to the MAAA Nationals held in the New South Wales town of West Wyalong. We were to be providing the equipment and be running the event. Mick Dallmann from Queensland offered to be Contest Director for the weekend and did a fine job of it. It was great to see a good group on competitors down from Queensland and some from South Australia also.

We were allocated an area on the secondary runway at the local airport which had a gravel runway. There was some test flying on Friday but due to the difficult take-off and landing conditions much time was spent on laying out sheets and matting to keep the dust down on the take-off position and on the runway for the planes that land wheels up.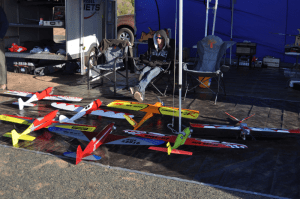 At the nationals, the classes of Q500, F400, F3T, F3D & F5D were raced. This meant that racing of F400 & F3T ran late into the afternoon with the sun very low in the sky.
One of the highlights of the Nationals is being surrounded by lots of people that are interested in the various facets of aeromodeling and getting a chance to watch some of these other events. Hopefully the Nats can become a more regular part of the Australian aeromodeling scene and especially for pylon racers from all over Australia to come together.
Check out the event photo gallery>>> 
Results
Places:
1st Daniel Arapakis
2nd Andrew Davies
3rd Barry Murphy
Fastest Time: 61.57 – Daniel Arapakis
No. of competitors: 7
Places:
1st Glenn Matthews
2nd Barry Murphy
3rd Gary Davidson
Fastest Time: 68.71 – Gary Davidson
No. of competitors: 10
Places:
1st Steve Taylor
2nd Barry Murphy
3rd Danny Giles
Fastest Time: 68.79 – Andrew Davies
No. of competitors: 7
Places:
1st David Wilkins
2nd Steve Taylor
3rd Marc Hamilton
Fastest Time: 96.39 – Jim Orenshaw
No. of competitors: 11
Class – F5D
Places:
1st Trevor Pearce
2nd Daniel Arapakis
3rd David Wilkins
Fastest Time: 60.10 – Jim Orenshaw
No. of competitors: 4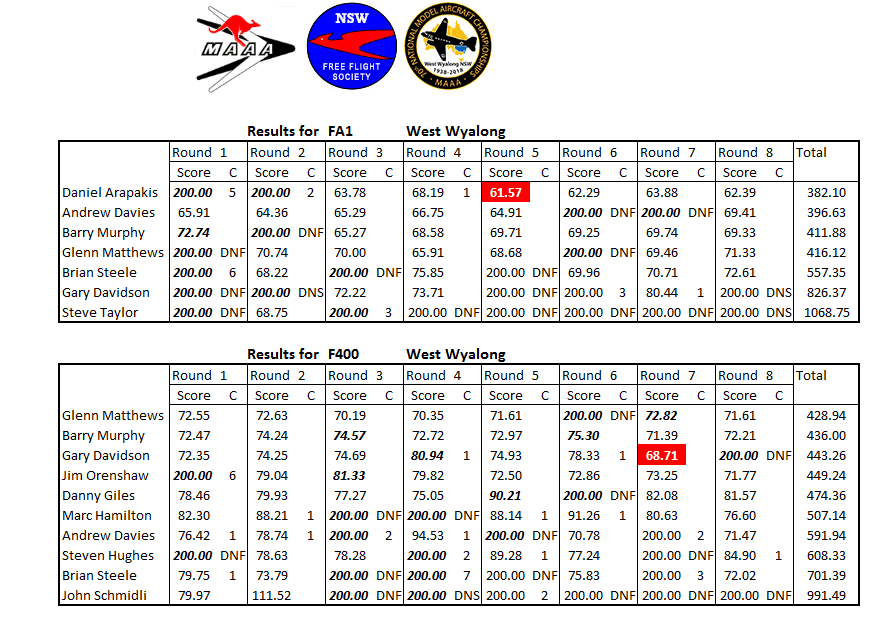 Event Report and Photos  – John Schmidli
The written content in this post is accurate to the best of my/our knowledge at the time of publishing. It is written from my/our perspective and reflects how I/we have experienced this event.
Photos published as feature images are selected purely for their quality, general interest or topicality. They are chosen from a pool of photos taken by myself and others when time permits.
If a perspective is not being represented, I am more than happy to publish any written content or photos that are supplied to me provided it is fair and reasonable.