On the weekend of May 14-15th, the VMPRA headed to a new club for us, the "Echuca Moama Model Aero Club".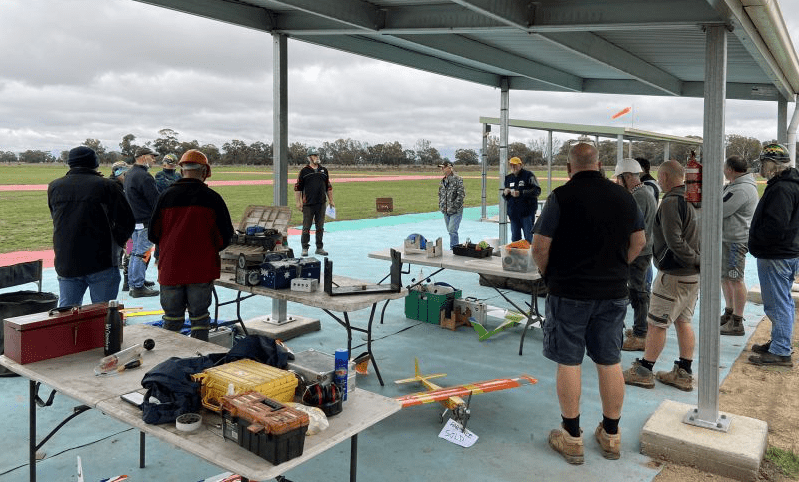 The facilities at this club were fantastic and a good size contingent took advantage of this and camped out at the field. There would have been about 8 caravans there.

This was a new field to us and a new event to the local club members, so this race was only two classes, F3T & Q500. I think this made for an enjoyable and slightly more relaxed weekend and resulted in good numbers of entries, with 7 for F3T & 11 for Q500.

The only difficulty we had was due to so many Q500 entries, we had some difficulty getting helpers on the No.1 pylon. Luckily, a couple of club members helped us out on Saturday and some friends of David and Toni Axon, helped on Sunday. The weather was perfect on both days and we enjoyed 2 great days of racing.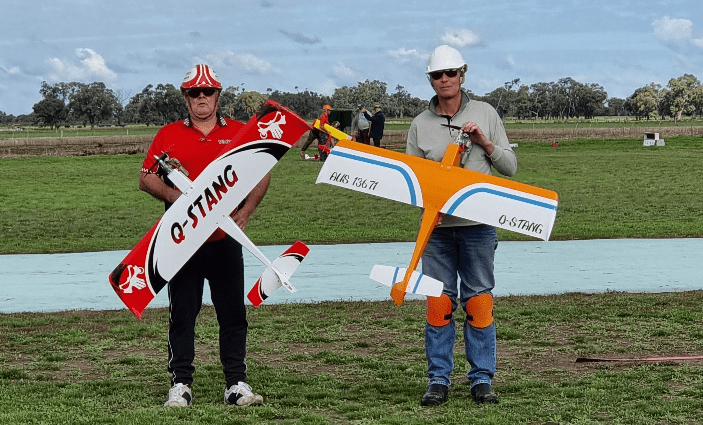 Results
Class – F3T
Places:
1st Barry Murphy
2nd Jim Orenshaw
3rd Brian Steele
Fastest Time: 67.69 Barry Murphy
No. of competitors: 7
Class – Q500
Places:
1st Tom Wetherill
2nd Jim Orenshaw
3rd Allan Swift
Fastest Time: 91.57 Tom Wetherill
No. of competitors: 11
Season Championship
F3T
Jim has jumped up to the top position from 3rd place resulting in Glenn and Andrew moving down a spot each.
1st – Jim Orenshaw
2nd – Glenn Matthews
3rd – Andrew Davies
Q500
There was no change for the top 2 positions but Garry has jumped up from 4th position into 3rd, displacing James Hurley.
1st – Jim Orenshaw
2nd – John Schmidli
3rd – James Hurley
Next Race
The next race meet will be on May 28-29 at Barry's flying field in Munro and we'll be back to our usual 3 class race event. I hope to see you all there.
Report – John Schmidli
Photos – Anh Swift & John Schmidli
Please note: We are looking for people willing to write event reports or photograph the events. This is important and valuable to pylon racing in Victoria, Australia and Worldwide as this site has a vast readership.
The written content in this post is accurate to the best of my/our knowledge at the time of publishing. It is written from my/our perspective and reflects how I/we have experienced this event. Photos published as feature images are selected purely for their quality, general interest or topicality. They are chosen from a pool of photos taken by myself and others when time permits. If a perspective is not being represented, I am more than happy to publish any written content or photos that are supplied to me, provided it is fair and reasonable.
Quick Reference