After a break from racing of over a month, VMPRA members headed down to Warrnambool for a weekend of pylon racing. Members of the Warrnambool club turned out in force to help and to provide good food and refreshments for the weekend. The field was in great condition but the weather on Saturday was not so good with very strong wind and the rain starting to fall in the afternoon. Sunday really made up for it, with only a light breeze and scatter cloud cover.
On Saturday we flew 5 rounds of Q500 followed by another 5 rounds of F400. Once the rain started falling, FA1 was abandoned for the day.
Sunday started with FA1 & Q500 alternating until 9 rounds of Q500 had been completed and then a further 4 rounds of FA1 was flown to complete the event.
All in all this was a very enjoyable weekend. As well as the on field action, we all went to the pub for dinner and a good chin wag on the Saturday night. It was a pity that entries for this event were down on the usual numbers but there was plenty of good racing to be had by all.
Results have been posted. See results >>>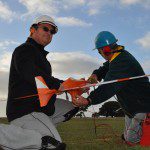 Full gallery of photos from this event >>>