What a weekend this was! I would have to say, "too much pylon racing is barely enough" but it came pretty close.
It's seldom we get to go pylon racing for 3 days in a row, but even more rare that we would have good weather to do this. This weekend, we encountered absolutely spectacular weather for all 3 days. Icy mornings to start with, clear blue skies and extremely still conditions prevailed.
Strictly speaking this isn't a VMPRA event. It's the annual AMPRA (Australian Miniature Pylon Racing Association) Championship and this was hosted by Barry Murphy at his spectacular, purpose-built pylon racing field, affectionately known as Bazza's Paddock.
We had a good turnout of Victorian competitors and 1 interstater (Ranjit Phelan) with a large contingency camping out at the field which is becoming a popular thing to do at a lot of the country locations. It was a shame that not more interstate competitors could make it to the event.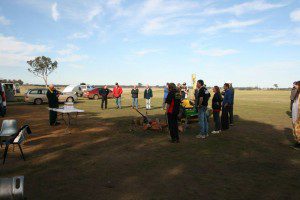 The catering at this event was fantastic with a huge variety of food throughout the day including a pre test flight breakfast.
FA1 (AUST F3D), F400 & Q500 classes raced this weekend.
Saturday we raced 4 rounds of F400, 4 Rounds of Q500 and 2 rounds of FA1.
Sunday, 3 rounds of Q500 and the remaining 7 rounds of FA1.
Monday, 2 rounds of Q500 and the remaining 5 rounds of F400.
FA1
Places:
1st Beau Murphy
2nd Gary Davidson
3rd Vern Gibson
The fastest time was Ranjit Phelan with 56.51s. Terry O'Connor's plane went in, going around pylon 3 and Beau Murphy hit a pylon.
F400
Places:
1st Glenn Matthews
2nd Tom Wetherill
3rd Andrew Davies
James Hurley raced his new KD Racer and Daniel Arapakis flew F400 for the first time with his Terry O'Connor built aircraft. His best time and 2nd race ever in this class was 72.36s.
Fastest time was flown by Andrew Davies with 68.74s.
Q500
Places:
1st Daniel Arapakis
2nd Ian Haigh
3rd John Schmidli
There were 10 entries – the largest number I've seen at a 3-class event in the last 4 years. Really great to see more interest in this class and this has really raised the game with closer levels of competition.
The fastest time was Ian Haigh with  95.19s. This was achieved with his spare aircraft after the mysterious mid-air disintegration of his Viper.
More Information also see:
Race Results & Times
Photo Gallery
World Championships
By the time our next event comes around, competitors will be there or on their way to the F3D World Championships in the Netherlands. We'd like to wish the Australian and New Zealand teams all the best. Those representing Australia are:
Beau and Barry Murphy
Ranjit Phelan and Rick Townsand
Tyler and Warren Mees
and our junior, Matt Young and caller Bruce DeChastel
Also other VMPRA members:
Tom Wetherill and Jim Orenshaw who are representing New Zealand.
Next Event
The next event is at Bendigo on July 13-14 and we are racing the FA1, F400 and Q500.
We are currently trying to confirm whether camping is allowed at the field, but there is a caravan park 5 minutes away in Marong where we usually have the AGM. We are also expecting to run the VMPRA AGM and general meeting (venue and time TBC).
New Event – Swan Hill
We have an event coming up on September 14-15 in Swan Hill. VMPRA haven't been to Swan Hill in a long time and it's always great to get a new location to go racing, so put this one in your diaries and let's support this one.
In the last couple of years the Swan Hill club has experienced a real resurgence and they are very keen to have us. There is a group of Swan Hill members that will probably camp at the site and they can also provide up to 8 helpers. They have free on-site camping, a hot shower and toilets and there is likely to be big brekky and lunch at very reasonable prices.
The strip is 50 metres from the pits and the runway is gypsum (no dust) and the club can mow a take-off square and roll it if necessary.
So let's try and make this a successful weekend. It would be great to see the guys from SA and the other Eastern states there.
John Schmidli – (report and some photos)
Additional photos provided by Lydia Arapakis (thanks).