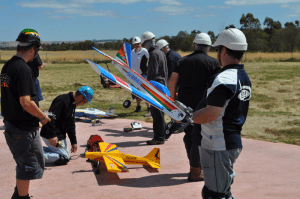 Not sure how many people we would get to this event, the good weather and an location that is close to Melbourne, brought out a good number of people. We ended up with 12 Q500, 4 sports and 2 EF-1 pilots. There was a couple of Scanner pilots there but it is a little surprising that with the popularity of this model and the scanner racing program, that there wouldn't be more interest in going racing more often and trying out flying the international recognized FAI pylon course. Theoretically, I believe the Scanner actually conforms to the Q500 rules, so could be flown as a Q500. A good way to start.
We ran 4 rounds of each class before lunch and another 3 rounds after lunch. There was no helpers for the event so, we took it in turns with Pylon#1 and being starter. I think all who attended had a good time.
Check out the event photo gallery>>>
Results:
Q500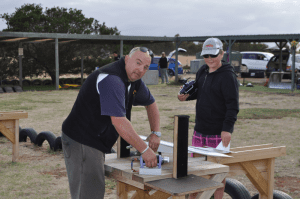 Daniel was blitzing the field again with some fast time.  Unforntuneately, a model that Barry Townsend and Tony Curzon were sharing was written off in the first race.
Places:
1st – Daniel Arapakis
2nd – Tom Wetherill
3rd – James Hurley
Fastest Time: 90.37 – Daniel Arapakis
No. of competitors: 12
Course – 10.5 Lap
Sports
There was a bit of a mix of planes in this class, but all where able to work on improving their times. Tony Curzon's Nemesis was flying very nicely and looked the part going around the course.
Places:
1st – Tony Curzon
2nd – Brian Steele
3rd – Matt Young
Fastest Time: 117.11 – Tony Curzon
No. of competitors: 4
Course – 10.5 Lap
EF-1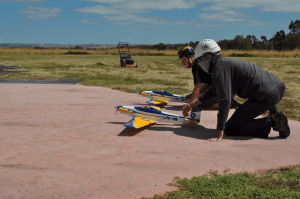 Unfortunately Walter Muller's plane was damages during a take-off incident, so Alan Swift flew 4 round on his own.
2013-2014 Season Championship
With only 2 races left for the championship, the battle at the top has seen Daniel Arapakis catch up to John Schmidli (myself) on equal points with only accumulated times leaving me at the top (for now)!
Next Event
The next full FA1, F400 & Q500 2 day event is at Bazza's paddock down at Munro on March 22-23, 2014. Sure to be a good turn out as this is a great venue for pylon racing. As this is a private flying field, if you are interested in attending this event and don't know the location, can contact the committee for the address.
John Schmidli
The written content in this post is accurate to the best of my knowledge at the time of publishing. It is written from my perspective and reflects how I have experienced this event.
Photos published as feature images are selected purely for their quality, general interest or topicality. They are chosen from a pool of photos taken by myself and others when time permits.
If a perspective is not being represented, I am more than happy to publish any written content or photos that are supplied to me provided it is fair and reasonable.