Back on the December 10, we returned to Crib Point for another of our Q500/Sports pylon racing days. Thanks Allan Swift for the below event report.

Q500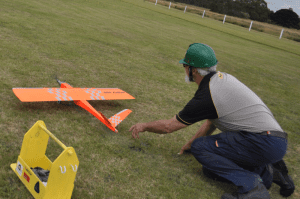 In Round 1, Jim Orenshaw did a 93 sec time which was the quickest all day. John Schmidli flew fast and consistently all day to win overall.
Some very quick models and close racing was displayed. Allister Cox (Western Port member) was flying one of Daniel Arapakis's  Q500 models which appeared to have the highest airspeed.
Gary & Alan Whitbourn both flew fast well prepared Q500's.
Sports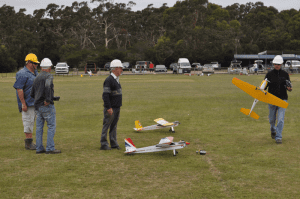 A good day was had by all and a variety of high and low wing Trainer/Sport type models were flown.
F5D display
Daniel Arapakis performed a practice/demonstration flight of his F5D after lunch and was very quick!
Many thanks to the host Club for making the Pylon flyers welcome, assisting with the Pylon marshaling duties and providing the catering for lunch.
Thanks also to Andrew Arapakis for CD'ing!
Check out the event photo gallery>>>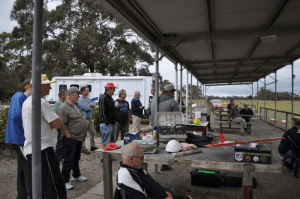 Results
Places:
1st John Schmidli
2nd Jim Orenshaw
3rd Gary Davidson
Fastest Time: 93.66 – Jim Orenshaw
No. of competitors: 10
Class – Sports
Places:
1st Mark Jacob
2nd Alister Cox
3rd Allan Swift
Fastest Time: 125.91 – Allan Swift
No. of competitors: 8
No change at the top 2 positions but in a close battle between father son team Gary Whitbourn has displayed Alan and has move up from 4th to 3rd positions.
1st – Jim Orenshaw
2nd – John Schmidli
3rd – Gary Whitbourn
Check Out Season Championship >>>
Q500 Engine Rule Change
Please note the VMPRA Committee approved engine list for Q500 Pylon events in VIC, as per carried motion at VMPRA General Meeting at Cohuna in 2017.
"Motion: VMPRA to use AMPRA Q500 rules, with the exception of retaining an updated approved engine list. VMPRA Committee to amend approved engine list."
Thunder Tigre .46, OS 46AX, OS 46AXII, OS 46FX, Super Tigre G45, Evolution .46NX, ASP S46A & ASP S46AII    
Next Race
The first event for 2018 is at Camperdown on February 3-4. This event is the VMPRATrophy. Pencil that one into the diary.
Camperdown Racecourse access conditions
Friday (02/02/2018)
Racecourse is available from 11:00 am onwards.
PLEASE DO NOT ENTER EARLIER THAN 11:00 am.
Saturday (03/02/2018)
Gate open at 8:30 am and NO FLYING.
Entries close at 9:30 am and the course is to be set up.
Test Flying from 10:00 am to 10:30 am.
Q500 to commence at 10:30 am.
FA1 practice allowed during lunch break.
FA1 to commence after lunch, followed by F400.
Sunday (04/02/2018)
Field closed for test flying and racing to commence after 9:00 am.
VMPRA Membership renewal
Please also note, your VMPRA membership fees are due for 2018.
Payment of $25.00 can be made at Camperdown or by the following methods:
2018 Nats
Also worth considering is the Nats that are being held in West Wylong (NSW) on April 28-29, 2018. Entries close on January 31, 2018 so you can register to compete by visiting the below link.
http://www.maaaevents.com.au/about/register
Check Out Complete Calendar >>>
Event Report  – Allan Swift
Additional material –  John Schmidli and Allan Swift
Photos – John Schmidli

The written content in this post is accurate to the best of my/our knowledge at the time of publishing. It is written from my/our perspective and reflects how I/we have experienced this event.
Photos published as feature images are selected purely for their quality, general interest or topicality. They are chosen from a pool of photos taken by myself and others when time permits.
If a perspective is not being represented, I am more than happy to publish any written content or photos that are supplied to me provided it is fair and reasonable.