VMPRA returned to the Bendigo Radio Control Aircraft Club (BRCAC) for the annual pylon event that was held at the club's field in Marong, Victoria on the weekend of 5 – 6 July 2014.  This is a very popular event on the VMPRA calendar for many reasons. The club and field are great, the accommodation is very close to the field and the local hotel serves up excellent food, which is very important for getting some extra insulation on the cold winter nights.
While weather can be a factor at this time or year, competitors enjoyed very good overall conditions during practice on Friday and over racing during the weekend. The racing program included Q500 Sport, VIC F400 and FA1, with the objective of flying as many rounds in each class as possible. Per usual VMPRA practice, racing was held over 10 ½ laps to reduce the requirements for the number of course workers.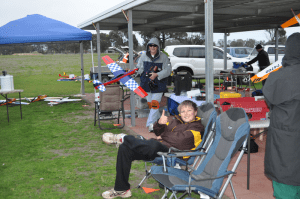 Friday practice was a somewhat leisurely affair as the weather was good, except for a brief rain shower, and there was plenty of opportunity to get in flights. The field was in excellent condition – and special thanks go out to Rick Townsend spending nine hours with his lawn mower.
Regular competitors came from Victoria and New South Wales as well as a large contingent of racers arrived from South Australia.  The host Bendigo club was also well represented with a good number of entries.
Racing got underway on Saturday morning with four founds of VIC F400. There was an impressive 17 entries in this class and it immediately became clear that if Shaun Jacobsen could tame his new DKT powered AR-6, that he would be putting in some good times. Brian Steele had also pried open his wallet and purchased a new Nelson.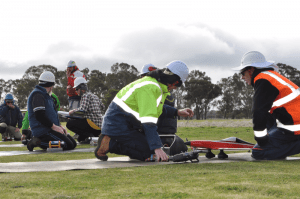 By the end of Round 4 he had posted an impressive time of 64.76 seconds, just short of a 64.6 that was posted by Glenn Matthews with his Nelson powered Supercat. Daniel Arapakis and Ranjit Phelan were also fast with times 65 second times.
Next up was Q500 Sport, and this class attracted 13 entries. John Schmidli and Barry Townsend were debuting impressive new Banshee models. Daniel Arapakis "unretired" himself from Q500, as he was saving his FA1 models for the next Team Trial. Three rounds were flown and James Hurley posted the fastest time with a 101.03.  Behind him there were many close races.  John and Barry were still coming to grips with their new models.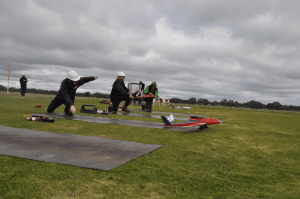 After a brief break, four rounds of FA1 were flown.  This class attracted nine entries, including Rick Townsend's new Veyron and Glenn Matthews new VooDoo.  After four rounds, Rick was about 2 seconds ahead of Tom Wetherill, with Bryan Steele in third.  Ranjit Phelan had posted the fastest time with a 60.69.
On Saturday evening, most of the competitors met at the Marong Family Hotel for dinner. This was followed by the VMPRA Annual General Meeting, which was held at the caravan park.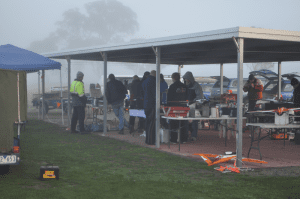 Plans for an early start on Sunday morning were thwarted by fog, which did not clear until mid-morning.  As a result, the target was re-set at completing seven rounds for each class.
First up was Q500 Sport and times were improving significantly. In the end, James Hurley was in first place with a score of 612.6, Daniel Arapakis was second with a score of 703.4 and John Schmidli was third with a score of 726.6.  Tom Wetherill had a score of 606.7, but opted to let the class regulars take the placings.  Daniel Arapakis had the fastest time with a 93.95.
The next task was to complete the remaining three rounds of VIC F400 and the pace also improved from the Saturday.  In the end, Ranjit Phelan was in first place with a score of 392.3 and the fast time of 62.92…not far behind the pace of the faster FA1's.  Shaun Jacobsen was second with a score of 401.8 and Brian Steele was third with a score of 416.1.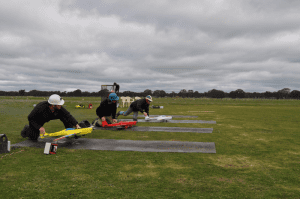 The final class to be flown was FA1 and three additional rounds were completed.  Conditions had changed from the prior day and a few 200's were showing upon the scoreboard.  Late in the afternoon the position of the sun became problematic, so starter Mick Kellett would wait for cloud cover to appear before starting the final few heats.
After the seven rounds were completed, Brian Steele was in first place with a score of 391.0, Tom Wetherill was second with a score of 524.6 and Glenn Matthews was third with a score of 526.5.  Ranjit Phelan posted the fastest time with a 60.11. Rick Townsend detonated an engine in spectacular fashion.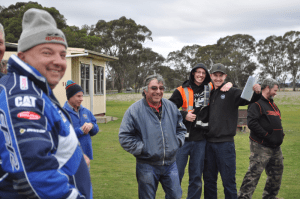 At the end of the day the awards were handed out to the place getters.  VMPRA and the competitors expressed their thanks to the Bendigo club for hosting VMPRA and supplying hot food and drinks, to Rick Townsend for preparing the field, to the people who had worked the course in the cold conditions and to the group from South Australia that had travelled to compete.  Tom Jacobson is the ring leader for the SA group and their presence and camaraderie really enhanced the event.
Check out the event photo gallery>>>
Results
FA1
Places:
1st Brian Steele
2nd Tom Wetherill
3rd Glenn Matthews
Fastest Time: 60.11 – Ranjit Phelan
No. of competitors: 9
Course – 10.5 Lap
F400
Places:
1st Ranjit Phelan
2nd Shaun Jacobsen
3rd Brian Steele
Fastest Time: 62.92 – Ranjit Phelan
No. of competitors: 14
Course – 10.5 Lap
Q500
Places:
1st James Hurley
2nd Daniel Arapakis
3rd John Schmidli
Fastest Time: 93.95 – Daniel Arapakis
No. of competitors: 13
Course – 10.5 Lap
2014-2015 Season Championship
This was the first event for the new season championship for 2014-2015 and this is how the positions sit.
FA1
1 – Brian Steele
2 – Tom Wetherill
3 – Glenn Matthews
F400
1 – Ranjit Phelan
2 – Shaun Jacobsen
3 – Brian Steele
Q500
1 – Tom Wetherill
2 – James Hurley
3 – Daniel Arapakis
It's early days for the championship and everybody has a chance to be in the mix for the championship. All you have to do is go racing.
Next Events
The next event is the Victorian State Championships being held on August 2-3, at the fantastic pylon racing field of Barry Murphy's. Not only is this the State Champs, but it is also another of the F3D 2015 World Championship team trials, so there will be some hotly contested racing in F3D. We will also be flying the 10 lap course and obviously, F3D will take priority due to the importance of this result to selecting the next Australian team. As this is a private field, If you would like to attend this event and don't know the location, please contact a member of committee for directions. See you all there.
Event Report: Tom Wetherill
Additional Post items & photos: John Schmidli 
The written content in this post is accurate to the best of my/our knowledge at the time of publishing. It is written from my perspective and reflects how I have experienced this event.
Photos published as feature images are selected purely for their quality, general interest or topicality. They are chosen from a pool of photos taken by myself and others when time permits.
If a perspective is not being represented, I am more than happy to publish any written content or photos that are supplied to me provided it is fair and reasonable.