Pylon racing in Victoria was off to a start for the first time this year with a return to Camperdown. As with nearly every race since June, weather had an extraordinary effect on the race. It was hot hot hot!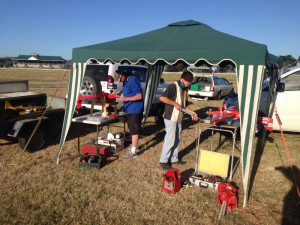 I'm not sure if it was the predicted hot conditions or the fact that this race was a little early in the year than usual, but numbers were a little down but all who attended seemed to have a good time and the weather actual led to extra socialization after racing finished on the Saturday both at the field and back at the Motel.
Proceedings started on the Saturday with 4 rounds of F400, followed by 3 rounds of Q500. After lunch the day was finished off with 4 rounds  of FA1. Sunday started early at 8:30 to try and beat the heat with 3 rounds of FA1, 4 rounds of  Q500 and then 3 rounds of F400. Then we had lunch and headed home early. There was some good clean racing and no models went home in a plastic bag. There was only some broken props and under-carts as the ground was a little hard and uneven.
Check out the event photo gallery>>>
Results
FA1
Places:
1st Beau Murphy
2nd Barry Murphy
3rd Daniel Arapakis
Fastest Time: 60.44 – Beau Murphy
No. of competitors: 9
Course – 10.5 Lap
F400
Places:
1st Daniel Arapakis
2nd Gary Davidson
3rd James Hurley
Fastest Time: 67.26 – Gary Davidson
No. of competitors: 9
Course – 10.5 Lap
Q500
There was only 4 people competing this weekend which was really down on recent numbers. Daniel was quick as usual but was finding difficult to get a clean round. James was in form with mostly  clean rounds.
Places:
1st James Hurley
2nd John Schmidli
3rd Jim Orenshaw
Fastest Time: 91.14 – Daniel Arapakis
No. of competitors: 4
Course – 10.5 Lap
2013-2014 Season Championship
We are over half way through the 2013 – 2014 VMPRA Championship Year with only Bacchus Marsh (Q500 only), Munro & Warrnambool left to go.
FA1
Barry Murphy is in a very strong position in first place, Brian Steele remains in 2nd and a change in 3rd place of Gary Davidson displacing Glenn Matthews who is now in 4th position.
F400
Glenn Matthews is now in 1st position after displacing Andrew Davies who is now in 2nd place. Gary Davidson remains in 3rd place.
Q500
No change in Q500 for the places with me (John Schmidli) in 1st, Daniel Arapakis in 2nd and Jim Orenshaw in 3rd.
Next Events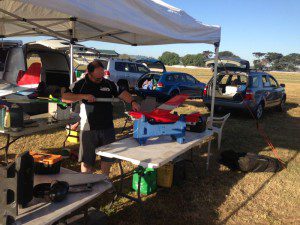 For the Q500 pilots, there's a race at Bacchus Marsh on March 2 which will also include EF-1 & Sports.
The next full FA1, F400 & Q500 2 day event is down at Bazza's paddock down at Munro on March 22-23, 2014.
Report: John Schmidli
Photos: John Schmidli & Andrew Arapakis 
The written content in this post is accurate to the best of my knowledge at the time of publishing. It is written from my perspective and reflects how I have experienced this event.
Photos published as feature images are selected purely for their quality, general interest or topicality. They are chosen from a pool of photos taken by myself and others when time permits.
If a perspective is not being represented, I am more than happy to publish any written content or photos that are supplied to me provided it is fair and reasonable.