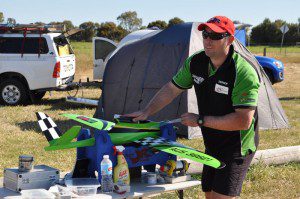 With the much anticipated Cohuna pylon event, came an influx of competitors from interstate. Starting with Queenslanders, Chris Callow, Steve Turna, Tyler and Warren Mees arriving in Melbourne and making their way up to Cohuna on the Thursday.  Friday saw the majority of other competitors arriving with much F3D testing done during the day. Later on Friday, South Australians, John Yianni, Tom, Shaun and Jarrod Jacobsen Arrived. Regular competitor, Ranjit Phelan from New South Wales also attended.

This event was shaping up to be a very exciting one with this being the final of the Australian F3D World Championship team selection trials where at the end of the weekend, positions on the team would be confirmed.  Already confirmed was Daniel Arapakis as junior representative and of course, Chris Callow as defending World Champion.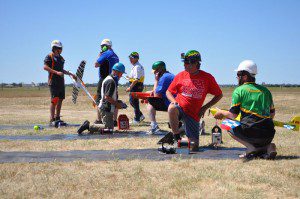 The weather for the weekend was shaping up to be perfect with fine, warm and light wind conditions.
As the team selection was the most important part of the weekend, F3D was to take priority. Saturday started with 3 rounds of Q500 to be used as a settling in phase for the pylon and lap judges. Refueling out on the line, meant that 3 rounds was completed fairly quickly. Then it was on to the main event. After 5 rounds of F3D, Saturday was finished off with 3 rounds of F400.
Sunday started with the final 4 rounds of F3D and a presentation of trophies. The rest of the event consisted of 4 rounds each of Q500 and F400.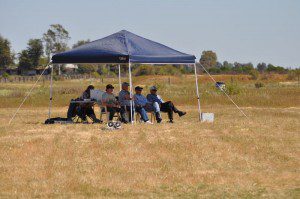 It must be said that this event would not have been run so successfully if it wasn't for the efforts of a large number of Cohuna members helping. The 10 lap course needed 4 people timing, 4 #1 pylon judges and 1 judge each on the #2 and #3 pylons.
Check out the event photo gallery>>>
F3D report
The final event to select the team that will represent Australia at the 2015 F3D World Championships was held on the weekend of 4 – 5 October 2014.  The event was held at the Cohuna Model Flying Club's field in Cohuna, Victoria.  Cohuna has been the "home" of pylon racing in Australia for approximately 30 years and the club turned out in full force to provide their support by working the course and serving up hot meals all weekend.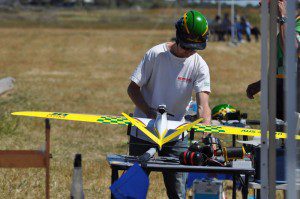 Three Australian "team" positions were up for grabs.  Selection of the team is based on the average scores from the best two (of three) designated Team Trial events.  This year the designated events included AMPRA, the Queensland or the Victorian State Championships and the Cohuna Team Trial.  Chris Callow had already earned a position as returning World Champion and Daniel Arapakis had earned a position as Junior.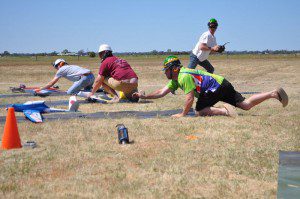 AMPRA and the respective State Championships had already been held and based on the results for the first two events the people that were almost certainly assured to be on the team were Beau Murphy and Tyler Mees. The pilots in contention for the remaining position on the team were Ranjit Phelan, Leigh Hocken and Steve Turna.
Nine rounds were to be flown over two days – with five rounds planned for Saturday and four rounds on Sunday.  Most of the competitors arrived a day early to tune for the conditions.  Chris Callow attended the event to help Leigh and Steve (but did not fly).
During Friday practice – it was apparent that some contestants were having difficulty tuning for the conditions.  Winter was over and temperatures were increasing – so it was time for sunscreen instead of jackets and beanies.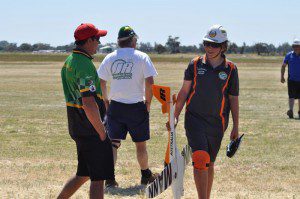 On race day, Q500 was run in the morning to make sure that the course workers and timing system was working properly.  F3D did not start until mid-day and when the racing began – Beau got off to a very good start, seemingly cruising to get reasonable scores.  However, it became apparent that the conditions were not good for very fast times.  Ranjit and Steve had problems, with both pilots getting 200's in the first two rounds.
By the end of the first day – Beau and Tyler were both running well, but Ranjit, Leigh and Steve had their backs against the wall with 2 x 200's and they could not afford to make any errors.
On the second day, the final four rounds were flown in the morning.  Once racing began – Tyler, Leigh and Ranjit really stepped up their performance.  Leigh posted a very impressive time of 55.44!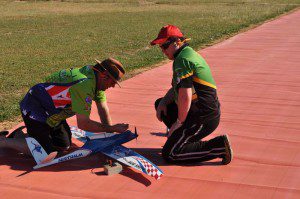 In Round 7, Beau Murphy had a problem with takeoff and hit the ground.  The next round his model was unstable – but he still managed a 57.  In the last round – he had difficulty controlling the model and shut down.  This gave him 3 x 200's.
Tyler had increased his pace – posting 2 x 57 second times.  Ranjit also posted some good scores, but was just edged out by Leigh who had made a very strong finish.  The final results for the event were – Tyler 420.5, Leigh 421.5 and Ranjit 425.0.
Stephen Turna also recovered well and posted some good scores on the second day to finish fourth with a score of 426.0.  Following behind was a group that included Daniel Arapakis, Bryan Steele, Tom Wetherill and Glenn Matthews.
The Australian Team will be as follows:
Chris Callow (returning World Champion) Kevin Callow – Caller
Tyler Mees, Warren Mees – Caller (average 58.89)
Beau Murphy, Barry Murphy – Caller (average 58.96)
Leigh Hocken, Vern Gibson – Caller (average 59.18)
Daniel Arapakis (Junior), Andrew Arapakis – Caller
F3D Report – Thanks to Tom Wetherill
The team selection table: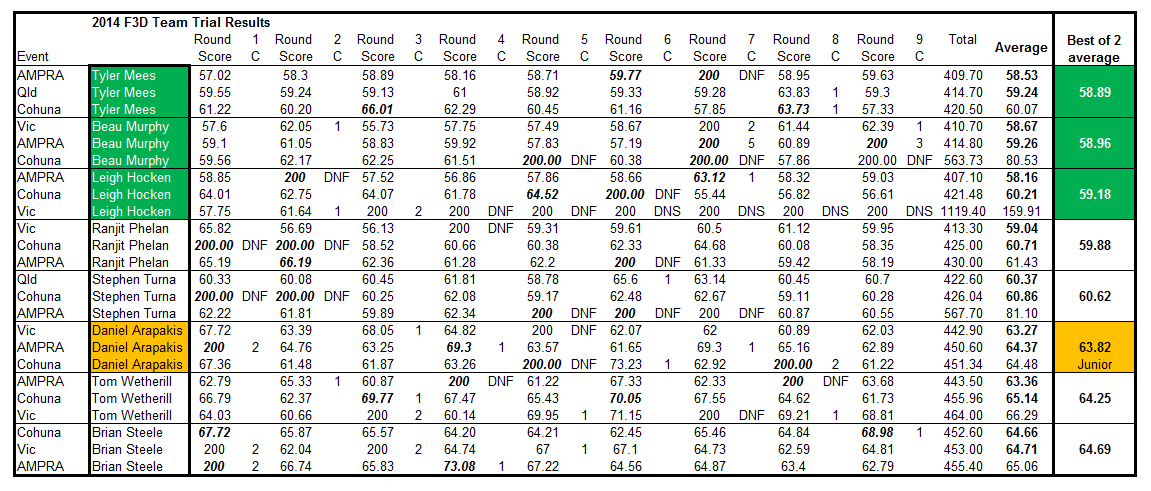 See Additional Info >>>
The Australian 2015 F3D World Champs Team Qualifiers with their Callers.
Tyler & Warren Mees, Leigh Hocken & Vern Gibson, Beau & Barry Murphy.
This was a hard-fought set of team trials. Congratulations to these guys!
Daniel Arapakis with his father Andrew will represent Australia
at the 2015 World Champs as a junior. Look out F3D World…..
F3D Results – Cohuna
Places:
1st Tyler Mees
2nd Leigh Hocken
3rd Ranjit Phelan
Fastest Time: 55.44 – Leigh Hocken
No. of competitors: 14
Course – 10 Laps
F400 report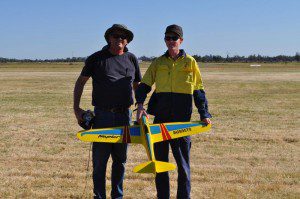 This class was hotly contested with SA visitors, Shaun and Jarrod Jacobsen and their very nicely turned out AR-6 models. Lilydale's pairing of Gary Davidson and Jim Orenshaw were both relieved of having to take home one of their models each. Tom Jacobsen was also lucky having sustained some damage when involved in a post-racing incident with both wing and tail damage possibly having clipped James Hurley's undercarriage. No one actually saw this happen but there was some evidence of this on James's model.
F400 results
Places:
1st Andrew Davies
2nd Shaun Jacobsen
3rd Ranjit Phelan
Fastest Time: 63.81 – Andrew Davies
No. of competitors: 13
Course – 10 Laps
Q500 report
We had a new addition to the ranks of Q500 pylon with Andrew Arrapkis flying in this class for the first time this weekend.  He had his son Daniel calling for him which is a bit of a role reversal. He also improved his time considerably over the weekend having started with a 128.77 and the last race on Sunday he got a very respectable 106.55 and came 5th out of 10 competitors. Well done Andrew!
Q500 results
Places:
1st Jim Orenshaw
2nd John Schmidli
3rd Tom Wetherill
Fastest Time: 93.78 – Jim Orenshaw
No. of competitors: 10
Course – 10 Laps
Season Championship
We are getting on to the end of the 1st half of the season championship.
FA1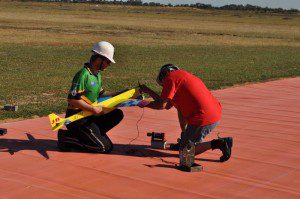 There's been a swap in positions at the top with Ranjit Phelan now in 1st position and Brian Steele now in 2nd. Tom Wetherill remains in 3rd place.
1 – Ranjit Phelan
2 – Brian Steele
3 – Tom Wetherill
F400
There has not been any change in the top 3 positions for F400.
1 – Ranjit Phelan
2 – Brian Steele
3 – Glen Matthews
Q500
Things have tightened at the top with James Hurley and John Schmidli drawing with 34 points each. There are some big changes further down with John Yianni moving from position 12 up to 6, Les Spaltman going from position 10 to 7 and David Axon moved from position 18 to 9.
1 – James Hurley 
2 – John Schmidli
3 – Tom Wetherill
Refurbished trailer
A much overdue refurbishment of our pylon racing trial was carried out prior to the event. A huge thanks must go out to Andrew Arapakis for taking this upon himself and organising this work. It was looking great at Cohuna and has now got a new lease on life. Thanks Andrew!
Next Event
The next event and the last for the year is November 15-16 at Hamilton.
Also, if anybody is interested, the Nationals are on in April 2015 up in Brisbane.
2015 Nats Program >>>
2015 Nats Entry Form >>>
Event Report & photos: John Schmidli & F3D report by Tom Wetherill.
Editing : Caroline Schmidli 
The written content in this post is accurate to the best of my/our knowledge at the time of publishing. It is written from my perspective and reflects how I have experienced this event.
Photos published as feature images are selected purely for their quality, general interest or topicality. They are chosen from a pool of photos taken by myself and others when time permits.
If a perspective is not being represented, I am more than happy to publish any written content or photos that are supplied to me provided it is fair and reasonable.