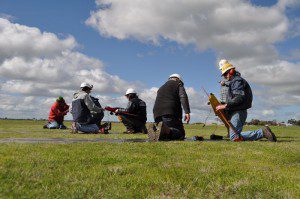 On the 17th & 18th of August we ventured up to Cohuna, a town up near the Victorian and New South Wales border between Kerang and Echuka, for a weekend of pylon racing (classes – FA1, F400 and Q500). This was the first event since the F3D World Championships in Holland that some members of the VMPRA were involved in.
The last event at Bendigo was severely affected by rain and only the F400 class managed to race 4 rounds. This weekend was looking also to be badly effected, not by rain but by very strong winds. Those who traveled up to Cohuna on Friday to do some test flights encountered extremely strong winds. Not much testing was done that afternoon.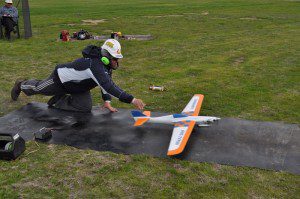 In the morning, after even stronger winds during the night, the wind died down and was a lot calmer. Due to the uncertainty of the weather and the fact that there was a forecast for more strong winds on Sunday, we needed to get a good amount of rounds in on the Saturday. We started with FA1 and Q500 together as these classes missed out at the Bendigo event all together.
We flew 5 rounds of FA1 and Q500 during the morning and after lunch, we flew 5 rounds of F400 leaving only a planned 4 rounds of each class for Sunday, weather permitting.
That night, after dinner, the VMPRA AGM was held at a room at the Cohuna Hotel. Members will receive minute of the meeting in the coming weeks.
Sunday morning wasn't too bad to start with but the winds gradually increased in strength throughout the morning. After 2 rounds of FA1 and Q500, a meeting was held and we agreed to abandon any further racing. We packed up, had lunch, presented trophies and then headed off home early.
Cohuna is a great place for pylon racing and the club provides us with a great deal of support. It was especially good to have enough helpers from the club to man all the pylons including judges for pylon 2 and 3.
FA1
Paces:
1st Barry Murphy
2nd Brian Steel
3rd James Hurley
F400
Places:
1st Andrew Davies
2nd Gary Davidson
3rd Daniel Arapakis
Q500
Places:
1st John Schmidli
2nd Jim Oreshaw
3rd Daniel Arapakis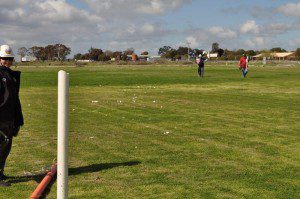 This event was mostly incident free except for Daniel managing to hit Pylon 2 with his Q500 leaving a trail of polystyrene and balsa strewn across the field. He possibly was followed in his mentors footsteps too closely as Beau Murphy did the same at Munro a short time before the World Championship.
You can view the full result here.
F3D World Championships
In the wrap-up of the World Champs, there has been a lot of information, photos, video etc. added to the official website at www.wcf3d2013.nl/
Congratulations to Chris Callow for taking out the championship once again and to all the Australian & New Zealand team members who took part.
VMPRA Season Championship
It's well and truely off and running after a bit of a fause start due to the Bendigo wash-out. You can compete just by attending as many events as possible and working at building the best set result possible. The championship really rewards consistency.
At this event, the previous championship winners were presented with their awards (Tom Wetherill – FA1 and F400 and John Schmidli – Q500).
Next Event
We are off to Swan Hill on September 14-15. VMPRA hasn't been to Swan Hill in a long time and it's always great to get a new location to go racing.
In the last couple of years the Swan Hill club has experienced a real resurgence and they are very keen to have us. There is a group of Swan Hill members that will probably camp at the site and they can also provide up to 8 helpers so this event will be well supported.
They have free on-site camping, a hot shower and toilets and there is likely to be big brekky and lunch at very reasonable prices.
The strip is 50 metres from the pits and the runway is gypsum (no dust) and the club can mow a take-off square and roll it if necessary.
So let's make this a successful weekend and it would be great to see numbers back up to pre-World Champs numbers.
The championship table has been updated and there is also a photo gallery from this event and you check out the calender for future races.
John Schmidli (Report and Photos).
.