Bacchus Marsh – Q500, EF1 & Sports Pylon Race.
March 10, 2013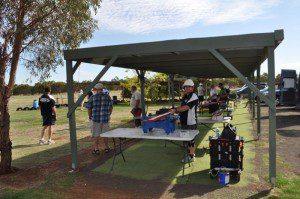 On yet another very warm day, we headed off to the Bacchus Marsh model aircraft club to race the introductory classes of Q500, EF-1 & Sports. The intention of this event is to give people a chance to try pylon racing for a first time or to encourage those new to pylon racing to improve their skills.
James Hurley and I where first to arrive at the club and were given a friendly welcome by  a group of local club members already there with BBQs setup and chewing the fat.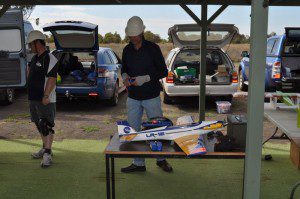 Due to an over-site when the event calendar was put together, this event was scheduled for the Sunday of the Labour Day long weekend (in Victoria). As a result there were pretty low numbers and no new comers to give pylon a go. There was still a group of 8 flyers there plus David & Toni Axon along with some Bacchus Marsh members, there to help run the event.  We decided to go ahead and get 5 rounds complete, have lunch, presentations and pack up early to escape the hottest part of the day. Funnily enough, I was last to leave and it had started raining as I drove out of the club. Who expected that!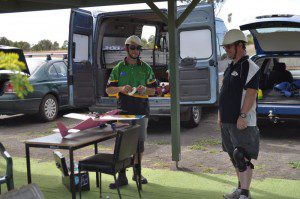 Out of the 8 flyers, 5 of us flew Q500 models and this would contributed to the season championship. The other 3 were a variety of models. Alan Swift with a (legal) EF-1 model, Terry O'Connor had an electric converted Quarter Midget model (very similar dimensions to the EF-1) and Tom Wetherill flew a composite/pylon style IC model.
I think we all had a good time. I certainly know I did and any chance to fly around the course is another chance to improve your flying.
Results: Q500
1st Place – John Schmidli
2nd Place – James Hurley only 0.6 sec behind the lead.
3rd Place – Gary Davidson. Only 4.0 sec of the pace.
Check out the full results >>>
Note that the course was not measured out so times are not indicative of our usual results.
 Next Event:
Bazza's paddock at Munro on March 23-24.
All 3 classes (FA1, F400 & Q500)
The championship table has been updated and there is also a photo gallery from this event.
I didn't manage to get many photo on the day due to there being only 3 heats per round. Anybody interested in contributing to this website, It would be great if you would like to:
1. Take photos of the event,
2. Write an event report.
Any help would be appreciated. Let me know if you would like to help out in any way.
John Schmidli