Back on the weekend of March 23-24, the VMPRA held an event down at Bazza's Paddock. For those who are unfamiliar with this venue, the field is near Munro between Bairnesdale and Stratford in Gippsland (Victoria, Australia). This field is a private, purpose-built pylon racing course developed by Barry Murphy. It is always a brilliant place to hold an event.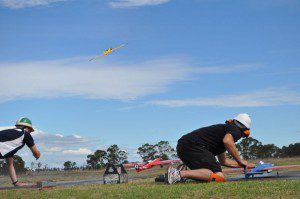 After the recent hot weather, it was nice to have milder conditions. Each day started off still, but the wind picked up during the mornings. Unfortunately on the Sunday, it was decided that FA1 wouldn't fly as the wind had become too strong to continue racing. As a result, only 5 rounds of FA1 were flown for the weekend.
There was a lot more carnage than at recent events, with planes lost by Rick Townsend, Andrew Davies, Matt Young and James Hurley. James and Matt found themselves out of planes by lunch time on Saturday. Bad luck for both of them but especially for Matt, who had traveled down by train from Bendigo with his planes, gear and camping equipment which was a really big effort! It was also good to have him flying Q500 as well as FA1.
During our lunch break on the Saturday, we had a visit from some VMAA & MAAA committee members. They presented the VMAA 'Hall of Fame' to Beau and Barry Murphy for their 2nd place at the F3D world championships back in 2011. It was great that the presentation could be made during this event and congratulations to Beau and Barry. Well done and we'll be looking forward to hearing how you go at the world champs in Holland later this year.
FA1
1st Place Barry Murphy
2nd Place Tom Wetherill
3rd Place Glenn Matthews
F400
1st Place Tom Wetherill
2nd Place Gary Davidson
3rd Place Glenn Matthews
Q500
1st Place John Schmidli
2nd Place Daniel Arapakis
3rd Place Ian Rickard
Championship
The championship is now getting close to the end with only 2 FA1,  F400 and 3 Q500 events left for this season.
For FA1 there was no change with the top 3 still being Tom Wetherill, Beau Murphy & Glenn Matthews respectively. Tom has increase his lead considerably as Beau had an uncharacteristically bad run on Saturday.
F400 saw a swapping of positions between flying partners Tom Wetherill and Jim Orenshaw. Tom has leaped to the top and Jim has moved down to 2nd place. Andrew Davies has now moved up to 3rd place.
There is a tight battle at the top with myself (John Schmidli) moving back to 1st place with James Hurley in 2nd Place although both on equal points. Positions have been decided based on total times. Daniel Arapakis maintains his 3rd position.
The championship table has been updated and there is also a photo gallery from this event.
Next Event
Our next event is at Warrnambool on April 13-14
All 3 classes (FA1, F400 & Q500)
John Schmidli