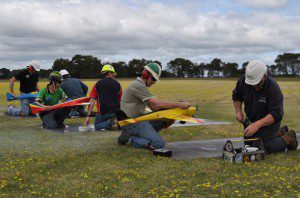 What a great weekend of pylon racing we had at Hamilton this year. The weather was great for Friday practice and Saturday's racing. Sunday was a little windy but not bad enough to stop us flying. This event was our Victorian State Championships with trophies provided by the VMAA. On top of this, the F3D racing was the last of the Australian World Championship team selection trials. The aim was to fly 9 rounds of each class but with priority given to completing the F3D comp particularly as Tyler & Warren Mees needed to return to QLD asap to work on Monday.
Saturday morning, we started on time with 3 rounds of Q500 & F400 and finished up at 12 noon sharp. F3D started at 12:30pm after 25 minutes of testing and we were able to run the races through very efficiently, especially with the great help of the Hamilton club members who were manning the pylons (1,2 & 3) plus the start finish line as the 10 lap FAI course was being used for the team trials. Before we knew it, 9 rounds where complete. There was some very fast and spectacular racing with positions on the team at stake.
Sunday was a bit more relaxed affair although there was lots of close racing to be had with 6 rounds of Q500 & F400 to be completed. This was all done and dusted by lunch time. After another great BBQ lunch along with a vast selection of slices. we packed up, presented trophies and headed off home at about 2pm, a lot early than we normally finish.
Team Selection Results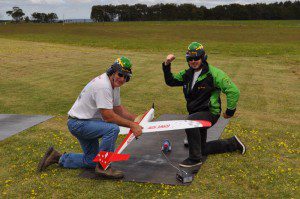 With Beau Murphy's win, he secured a place on the Australian team. Leigh Hocken and Tyler Mee's fort it out for a possible 3 place on the team with Tyler winning this battle after his final re-run. I say a possible position because it's not currently clear as to whether Chris Callow is going to be competing as a member of the team or as the returning World Champion. Time will tell!
The 2 team selection events run here in Victoria this year have been a high-light with having quite a few visitors from interstate. This time, besides Tyler & Warren driving down from QLD, we had the SA contingency of Stuart Humpherson, Trevor Pearce and Frank Weeks racing. The more competitors there are, the more fun to be had.
We also had 2 new pilots flying in Q500. Daniel Arapakis flew his new Viper having flown previously a trainer at Werribee. What a great job he did while enjoying the challenge of bringing his race times down, race after race. Also Paul Pollock flew Q500 for the first time and although a very experience r/c pilot, really enjoyed racing this affordable yet challenging class.
Season Championship
F3D – No changes in 1st & 2nd position, but Glenn Matthews has now moved up to 3rd place.
F400 – Gary Davidson & Jim Orenshaw have swapped places, Gary now in 1st place and like in F3D, Glenn Matthews has popped up into 3rd place.
Q500 – James Hurley & John Schmidli  have swapped places now with James in 1st position (JS – it pains me to say). Ian Haigh remains in 3rd place.
Next Event
The next event is at Bazza's Padock down at Munro on November 24-25, 2012.
Also note that we have our first event for the year (Camperdown) now listed on the event calender, so be sure to pencil this into your diary.
The championship table has been updated and there is also a photo gallery from this event.