Despite gale force winds throughout the week in Victoria, our QLD friends from A1 Composites arrived safely at Munro. Yet again the field was immaculately prepared and ready for racing.

A dozen campers and pilots arrived on Friday for testing and preparations for the event which would be the last one for the F3D and F400 Annual Season Championship fly-off. With another field upgrade of a roaring pot belly heater, this proved to be a ripper particularly during the very popular evening festivities of the famous Saturday night dinner.
Saturday's forecast was perfect with 24 degrees and light Westerly winds. Formular 400 kicked off with a field of 11 pilots with a variety of models flown. There was carnage between Brian Steele and Jimmy Orenshaw with a spectacular mid-air collision which obliterated both models. James Hurley focusing on one class this weekend which saw his personal best of 71.64 seconds being recorded in round 5 with a big smile returning to the pits pipping his team mate John Schmidli for 4th place. Great to see Andrew Davies back into the groove with sub 70 times on the Sunday finishing in a solid 3rd position for the weekend. Murphy owned Miss Dara's designed by the world famous Dane Kane, took out 1st and 2nd places powered by a Nelson flown by Beau and Barry respectively. Fastest time was recorded by Beau with a 64.88 seconds. Well done to all pilots for the weekend.
The entry pylon class – Quickie 500, took to the sky's with 12 pilots from ages 12  to 80 years old. Veteran Tom Prosser again flew his immaculately scratch built model and was very impressive all weekend and an absolute pleasure to chat with regarding a life time of great stories and competitions. Saturday saw 3 rounds completed and young Cameron Sexton debut in this class with an Angelov model. His best time for this weekend was 124.96 seconds. Well done Cam!
As the event rolled on, the 1st & 2nd podium positions battle went on between Tom Allen and plane builder, Steve Taylor who was visiting Munro for the very first time and flying his flagship Q500 model, the Banshee with a uniquely yellow colour scheme. Some would say the stripes resembled a pineapple. Well done guys. Steve nudging 1st place, Tom Allen in 2nd and the very reliable John Schmidli in 3rd place. Weather did turn fierce with 30+ knot winds for the last 3 rounds and well done to all quickie pilots!
F3D event was piloted by 7 entrants. Saturday saw Beau Murphy in the 50's and Dannmann closely behind him. Baz Murphy was tackled by dead-air while tail-gating Glenn Matthews which caused the destruction of his Minute Master after plowing into  terra firma in round 1. Unfortunately only 3 rounds were completed on Saturday and flying on Sunday afternoon was cancelled due to strong winds. The best time was recorded by Beau with a 59.36 seconds. With AMPRA just around the corner, the Victorian pilots are in great shape for the first round of the 2017 world championship team trials.
Check out the event photo gallery>>>
Results
Places:
1st Beau Murphy
2nd Daniel Arapakis
3rd Brian Steele
Fastest Time: 59.36 – Beau Murphy
No. of competitors: 7
Class – F400
Places:
1st Beau Murphy
2nd Barry Murphy
3rd Andrew Davies
Fastest Time: 64.88 – Beau Murphy
No. of competitors: 11
Class – Q500
Places:
1st Steve Taylor
2nd Tom Allen
3rd John Schmidli
Fastest Time: 95.62 – Tom Allen
No. of competitors: 12
This was the last event for the 2015-2016 Season Championship for FA1 & F400.
Q500 has one more event to run which is on July 3 at Werribee. Trophies for 1st place for each class will be presented at the AGM at the Bendigo event.
The following is how the season championship wrapped up for FA1 & F400 and how Q500 currently stands.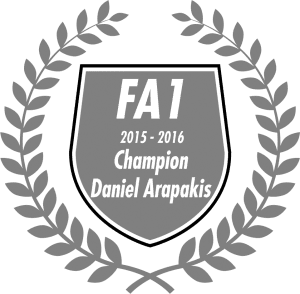 1st – Daniel Arapakis – Winner
2nd – Barry Murphy
3rd – Glenn Matthews
Congratulations to Daniel for an extremely strong year of racing.
1st – Brian Steele – 
2nd – Glenn Matthews
3rd – Shaun Jacobsen
Congratulations to Brian for what was also a very strong year of racing.
1st – Jim Orenshaw
2nd – John Schmidli
3rd – Andrew Arapakis
For Q500, again there was no change for the top 3 positions but John Schmidli is back in with a mathamatical chance to knock Jim off the top at the last event in Werribee.
Check Out Season Championship >>>
Season Fastest Time
There was no new fastest times recorded at this event. A huge congratulation goes out to Leigh Hocken for taking out the fastest times for the year in both FA1 & F400.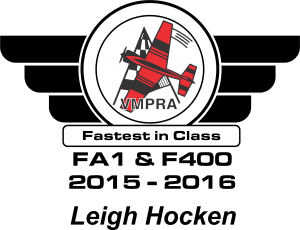 FA1 – Leigh Hocken – 57.38
F400 – Leigh Hocken – 61.75
Q500 – Daniel Arapakis – 89.59
Next Race
AMPRA is being held on the Queen's Birthday weekend (June 11-13, 2016) up at Coolum "Sunshine Model Flyers" in QLD. This is the 1st of the 2017 WC Team Trials. Good luck to all the VMPRA members attending this event.
For the VMPRA, the next event is a Sports/Q500 1 day event being held at Werribee on July 3. A great opportunity to have some fun racing. Bring a Q500 or Sports model along.
Check Out Complete Calendar >>>
Event Report – Anonymous
Additional information: John Schmidli
Photos – Lydia Arapakis & John Schmidli
The written content in this post is accurate to the best of my/our knowledge at the time of publishing. It is written from my/our perspective and reflects how I/we have experienced this event.
Photos published as feature images are selected purely for their quality, general interest or topicality. They are chosen from a pool of photos taken by myself and others when time permits.
If a perspective is not being represented, I am more than happy to publish any written content or photos that are supplied to me provided it is fair and reasonable.