Mornington Peninsula surrounded by two magnificent waterways boasts 80 boutique wineries and the home club of Dannmann18.  After working with the club officials, VMPRA committee and sponsors, WPMAC was set up to host its very first official Pylon Race. Situated at Crib Point, the great race had 11 pilot entries for Sports Pylon, 16 entries for Q500, 25 pilots and approximately 100 spectators and supporting crews that attended the club throughout the day.

The field was presented in immaculate condition and the poles set up with pylon 1 in the south! The weather Gods were true to the forecast yet again with a 25 knotter from Bass Straight on the Saturday which made practice a little tough but the pot belly heater working a treat jam packed with red gum. The night was a traditional campers Greek feast with spit roasting and beers flowing.
Sunday morning with a 5 knot southerly was expected with pilots arriving early and setting up their models. The new comers both in Sports and Quickie, carefully observing the set-up of the experienced crews.
The morning flying commenced with an instructional demonstration on the start line with how the clock and pylon lighting works as well as all the safety regulatory information as well as race tactics. All pilots had the chance to fly the coarse and practice what most new comers have never done before, fly a left-hand circuit around themselves for 10 laps.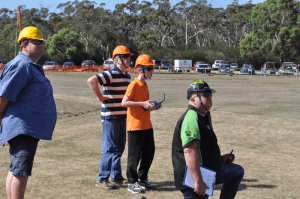 The race kicked off with Sports Pylon and Scanner Racing. Results were staggering and the smiles and sense of personal achievement being the winner by far. There were no mid- air's, and most pilots brought their models home. It was great to watch the event from the start line where experienced ambitious club pilots were still 20 meters from the pylons and told to "pull it in pull it in". Young Cam Sexton is the rising star who had the opportunity to practice at Baz Burphy's famous Munro field the week before. He was really tight around the poles and had the best style. Race results were a mixed bag as it's a bit different to a fun fly as starting a plane in 60 seconds and flying 10 laps around a 3 pylon course with no penalties is always a challenge even for the most experienced teams and pilots. New starters Michael Burston and Mark Jacob flew great for their first efforts too.
Race winner Wayne Newman representing his great store Addies Hobbies flew a great race, second place to Mark Jacob and third place going to George Angelov with a behemoth of a model of some silver and red description.
Q500 commenced after lunch and with entry numbers that this class hasn't seen in years with a huge talent pool from first timers to best in class, experienced pilots. Definitely a spectators race on the day as the speed difference between the 2 classes was an eye opener for most people as this type of racing hasn't been on the Peninsula in years.
Mark Jacob from the neighboring club, NMAA in Rosebud West with his scratch built model finished in the middle of the pack in his very first race amongst experienced pilots.
The host club members as well as young cool kids such as James Hurley Jnr and Cam Sexton were on the lights in Pylon 1 cage and had a great time with lots of laughs and also learnt a lot about racing!  
With 4 rounds of racing across multiple heats, the afternoon was set to be a ripper. Final results showed how close the racing was with only 10 seconds separating the top half of the racers. Jimmy Tiger Orenshaw took out 1st place and has stretched his season championship lead. Dannmann's first Quickie race this season recorded the fastest time of event and best time of the season 89.59 seconds coming in 2nd place with John Schmidli finishing in 3rd.
Great to see Austin Omann finishing in 4th place (pipping Master Kellet by 0.4 seconds) achieving times averaging 95 seconds with a Viper that was donated to him by VMPRA at last years' AMPRA event.
The Presentation was rewarding and all place getters receiving a formal trophy for their great efforts for the day. Dannmann handed down his Q500 trophy to the next place getter in fairness as the unwritten rule is for accomplished F3D pilots to stand down if presented a trophy at any event.
Many thanks to Model Flight for their donation of 6 gift vouchers that were handed out to other participants to recognize their efforts on the day.
Many thanks also goes to the WPMAC committee and club members who supported the event and putting Crib Point on the Map! I am sure more events will be the highlight of the clubs calendar for years to come.
In summary, the purpose of this event was to introduce Pylon to local Clubs and all pilots abroad with a mission of flying in an entry class and most importantly to have fun! Undoubtedly this was achieved with a top score of a perfect 10!
Check out the event photo gallery>>>
Results
Places:
1st Jim Orenshaw
2nd Daniel Arapakis
3rd John Schmidli
Daniel stood aside when trophy were presented, allowing John Schmidli to receive the 2nd place trophy and Austin Omman received the 3rd place trophy.
Fastest Time: 89.59 – Daniel Arapakis
No. of competitors: 16
Class – Sports
Places:
1st Wayne Newman
2nd Mark Jacob
3rd George Angelov
Fastest Time: 138.62 – Allan Swift
No. of competitors: 11
The following is how the season championship stands currently.
1st – Jim Orenshaw
2nd – John Schmidli
3rd – Andrew Arapakis
For Q500, again there was no change for the top 3 positions.
Check Out Season Championship >>>
Season Fastest Time
Daniel Arapakis did a sub 90 seconds to take the fastest time from Mike Kellet.
Q500 – Daniel Arapakis – 89.59
Next Race
2 weeks later (April 16-17), we will be down at Warrnambool for one of our regular 3 class races.
After that there is another Q500 and Sports race to be held at Lilydale (LDMFA) on May 1. This isn't a championship round for Q500 but still is a great opportunity to go racing, practice and encourage new-comers to our most exciting facet of aeromodelling.
Check Out Complete Calendar >>>
Event Report – Anonymous
Additional information: John Schmidli
Photos – John Schmidli
The written content in this post is accurate to the best of my/our knowledge at the time of publishing. It is written from my perspective and reflects how I have experienced this event.
Photos published as feature images are selected purely for their quality, general interest or topicality. They are chosen from a pool of photos taken by myself and others when time permits.
If a perspective is not being represented, I am more than happy to publish any written content or photos that are supplied to me provided it is fair and reasonable