The VMPRA State Championships were held at Barry Murphy's field in Munro, Victoria over the weekend of 2 – 3 August 2014. The event also served as the Victorian Team Trial Qualification round for those that were looking to be on the Australian team for the next F3D World Championships, to be held in Olomouc, Czech Republic in July 2015.
By planning or coincidence – the Queensland-based racers were participating in their equivalent Team Trial event in Rockhampton on the same weekend. There are three places for the Australian Team as well as one for a Junior. Competitors who were going after a position on the team included Leigh Hocken, Beau Murphy and Ranjit Phelan.  Thirteen year-old Daniel Arapakis who is chasing an additional position on the team as a Junior.
Due to the importance of the event as a Team Trial, a number of competitors began arriving on the Thursday afternoon – only to be greeted by a major winter storm that was sweeping across the state. Winds were in excess of 100 kph, there was snow in the local hills, trees across the highway and power failures.
Friday was planned to be a practice day, and the field well groomed and was in excellent condition –thanks to the efforts of Ian Ricard. Unfortunately, the winds were still gusting to over 70 km/hr. so not many chose to risk taking flights.  By Friday evening, the pit area was full with competitors setting up camp and making sure that adequate supplies of firewood and anti-freeze were available.
Saturday morning dawned a balmy 3 degrees Celsius, but the weather had improved considerably.  Racing was to be completed over the standard 10 lap course – so that scores were consistent with the requirements for the Team Trial.  It was decided to allow time for practice and then 3 rounds of Q500 Sport were flown to get the workers comfortable with the system, to allow the sun to rise and the weather to warm up.
Q500 Sport attracted eight entries and by the end of practice and Round1 – Marcus Guss had not only lost his model, but introduced a model loaned from Vern Gibson to pylon #2.  Jim Orenshaw's model  did not make it to Pylon #1.  After this unfortunate start – no further models were lost or damaged all weekend.
At the end of Round 3, James Hurley had set a very fast pace with a 90.16 and was in first place.  John Schmidli was showing good pace with his new Banshee and newcomer David Chippendale was quickly getting a handle on things.
The main event for the weekend was the F3D FA1 Team Trial.  This class attracted 11 entries and the goal was to complete nine rounds.  Racing got underway late Saturday morning and the conditions were looking good.  After the first Round, Beau Murphy had posted a 57.60, which narrowly edged Leigh Hocken's 57.75.  The txt messages were already being transmitted to/received from Queensland-where fast times were also being posted in their event.
Five rounds of FA1 were flown on Saturday and at the end of the day, Beau Murphy was in the lead and had also posted a fastest time of 55.73.  Ranjit Phelan was second with a best time of 56.13 and Glenn Matthews was in third with a best time of 60.45.  Daniel Arapakis had posted five scores and was sitting in 6th place overall.  Leigh had experienced problems and withdrew at the end of the day.
Next up was F400 VIC and four rounds were flown.  This class also attracted 11 entries.  The weather conditions were improving and some fast times were being posted.  At the end of four Rounds, Ranjit Phelan was in the lead and had set the pace with a best time of 63.39.  Brian Steele had posted a best time of 64.87 and a number of other competitors had times in the 65 second range.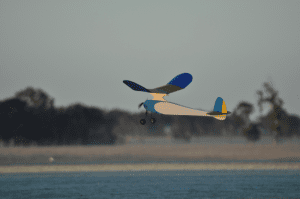 After the racing was completed, an eclectic collection of models – ranging from small electrics to old timers – took to the skies.  Masterchef, Andrew Arapakis served up a dinner feast that included sashimi and roast pork.
ED – The remarkable thing about pylon racers is as soon as the wind drops at the end of a day's racing or during the still of a morning, all sorts of models come out to be flown. Many of them are gliders, old timers and fun-flies. This is contrary to what most expect of the pylon racing fraternity. Basically, we all have the fascination with flight.
Sunday morning dawned cold and clear, with the temperature at the field being minus three degrees Celsius!  Racing was delayed until the temperature increased and four rounds of Q500 Sport were then flown.  James Hurley continued his pace from the previous day and finished in first place with a score of 568.5.  Arch rival (and teammate) John Schmidli was second with a score of 592.8 and Ian Haigh was third with a score of 633.8.
The last four rounds of FA1 were then flown and times were slower than the previous day.  Beau Murphy finished in first place with a score of 410.7 and Ranjit Phelan was second with a score of 413.3.  Daniel Arapakis had a strong finish and posted some good scores.  He finished in third place with a score of 442.9.
For comparison, the results for the Queensland event were in.  Chris Callow had blitzed the field with a score of 389.1.  The scores for other competitors that were chasing a position on the Australian team were as follows – Tyler Mees 414.7, Stephen Turna 422.6.  Joseph Black who was competing as a Junior had a score of 451.9.
The final event on the program was to complete the remaining five rounds of F400 VIC.  There was plenty of close and exciting racing -an amazingly, no carnage.  After nine rounds, Ranjit Phelan was in first place with a score of 448.9.  Along the way he posted a best time of 62.7.  Brian Steele was second with a score of 458.8 and his team mate Andrew Davies was third with a score of 461.2.
A great weekend of racing was able to be completed – despite the initial impacts due to weather.  Special thanks to Barry Murphy for making available an excellent flying facility and to Ian Ricard for the hours spent mowing and preparing the field.  Thanks to Nerida Matthews who ran the scoring system and to those that helped make the event possible by working as judges, timers and the starter.  Notably there were NO reflys!
As usual, there has been intense competition for positions on the Australian team and the final showdown/shoot out for positions will be held at the next competition, which will be held in Cohuna, Victoria in early October.
Check out the event photo gallery>>>
Results
FA1
Places:
1st Beau Murphy
2nd Ranjit Phelan
3rd Daniel Arapakis
Fastest Time: 55.73 – Beau Murphy
No. of competitors: 11
Course – 10 Lap
F400
Places:
1st Ranjit Phelan
2nd Brian Steele
3rd Andrew Davies
Fastest Time: 62.70 – Ranjit Phelan
No. of competitors: 10
Course – 10 Lap
Q500
Places:
1st James Hurley
2nd John Schmidli
3rd Ian Haigh
Fastest Time: 90.16 – James Hurley
No. of competitors: 8
Course – 10 Lap
Season Championship
Two events into the new season championship for 2014-2015 and this is how the positions sit.
FA1
Brian Steele remains at the top and Ranjit Phelan has improved his position and jumped into 2nd place, displacing Tom Wetherill down to 3rd place.
1 – Brian Steele
2 – Ranjit Phelan
3 – Tom Wetherill
F400
Ranjit Phelan stays in 1st place, Brian Steele and Glenn Matthews move up into 2nd & 3rd place respectively.
1 – Ranjit Phelan
2 – Brian Steele
3 – Glen Matthews
Q500
James Hurley has moved up to 1st position as well as John Schmidli up to 2nd position. Tom Wetherill is now in 3rd due to not flying at the Munro event.
1 – James Hurley 
2 – John Schmidli
3 – Tom Wetherill
Next Events
The next event on the VMPRA calender is the Q500, Sports and EF-1 day at Werribee on August 24. A great event for those flying or wanting to get into racing Q500 class. Even if you don't have a Q500 aircraft, you can have a go with any sports type aircraft. Ideally a 46 size trainer or sports model would do. Also there is an oppertunity for electric/scale racing with the EF-1 class.
The next full 3 class race event is at Cohuna on October 4-5. This is the last of the 2015 World Championship team trials for F3D class so this is sure to be an exciting event.
Event Report: Tom Wetherill
Additional Post items & photos: John Schmidli
Additional Photos: Andrew and Lydia Arapakis 
The written content in this post is accurate to the best of my/our knowledge at the time of publishing. It is written from my perspective and reflects how I have experienced this event.
Photos published as feature images are selected purely for their quality, general interest or topicality. They are chosen from a pool of photos taken by myself and others when time permits.
If a perspective is not being represented, I am more than happy to publish any written content or photos that are supplied to me provided it is fair and reasonable.