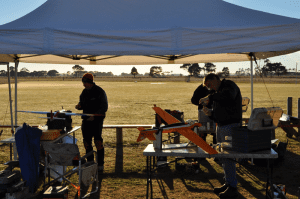 The annual VMPRA race was held at the Warrnambool Club's field on the weekend of 28 – 29 March 2015.  The event has been on the VMPRA calendar for well over a decade and the club has been very supportive of pylon racing.
Warrnambool is located on the Southern Ocean, and historically this has meant cool and windy conditions…and fast times.  This year a storm front passed through the area on the Thursday prior to the event giving the area and the flying field a good watering.  The weather then improved throughout the weekend.

Pilots that arrived on Friday were treated to sandwiches and tea/coffee and sweets – the hospitality was provided by Toni Axon.  It was a very civilised way to start the weekend and there was plenty of time for practice flights. Late in the afternoon, Tom Jacobsen and the dedicated group from South Australia arrived. These guys are truly passionate about their pylon racing and they helped bolster the numbers as a number of the VMPRA regulars had family and business commitments.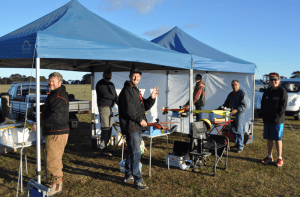 Saturday dawned overcast and cold, with occasional rain showers. The course was set up and racing got underway by mid-morning. The schedule was to follow the usual VMPRA plan – VIC F400, Q500 Sport and FA1, with the target of completing eight rounds for each class. As usual VMPRA procedure, racing was over 10 ½ laps.
VIC F400 was first up and this class attracted eight entries.  Four rounds were flown on Saturday and Shaun Jacobsen set the early pace, ending up with a best time of 64.88 for his DKT powered AR-6. Shaun was chased all the way, wing tip-to-wing-tip, by an inspired Jim Orenshaw. Jim had found a new prop that gave more speed and he finished the day with his best time of 65.51.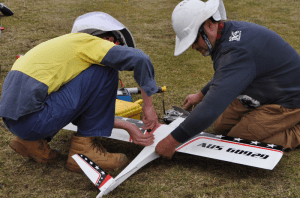 Four rounds of Q500 Sport was the next class to see action and this class attracted seven entries. John Schmidli set the early pace in the first round, however, he was not able to maintain consistency. John's regular team-mate, James Hurley, had other commitments this weekend and Gary Davidson stepped in to help out. James York was debuting an impressive new Banshee and John Yanni also had a new model. David Axon had recruited Barry Murphy (apparently bribed by offers of sandwiches and tea) as a mentor and caller for the weekend – in the absence of Brian Steele. George Angelov was back in action as well with help from Gary. However, their efforts were in vain, as Tom Wetherill bagged some good scores in the 94 second range to finish ahead at the end of the day.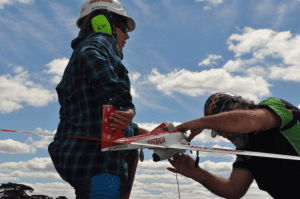 FA1 was the next class to be run and this class also attracted seven entries. Leigh Hocken, a member of the host club, member of the Australian F3D 2015 Team and local hero, set the pace on the first day with a string of 59 second times.  His best time coming in Round 5 with a brand new model.  At the end of the day, Tom Wetherill was second with best times in the 61 second range and Daniel Arapakis was third with a best time in the 62 second range.
On Sunday, the weather continues to clear and beanies were replaced with sun screen.  The first event was to complete the final four rounds of VIC F400.  Shaun Jacobsen continued to show the way and finished first overall with a score of 394.4.  Another win for SA!  Glenn Matthews finished second with a score of 421.2.  He was followed 0.5 seconds behind by Jim Orenshaw.  Cuts incurred during chasing Shaun caused him to drop back in the results.  Times on Sunday were slower than the previous day.
The remaining four rounds of Q500 Sport were flown next. There was plenty of very close racing as well as some bumping and sharing paint in flight – fortunately no loss of models occurred.  Although the times were also slightly slower than the prior day, Tom Wetherill finished in first place with a score of 578.9.  John Schmidli was second with a score of 610.0 and James York, who had started to dial in his new model, finished third with a score of 668.8.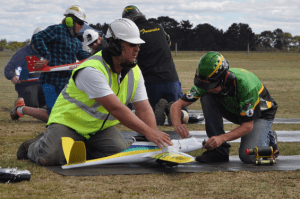 The last event for the weekend was to complete the final three rounds of FA1.  Leigh ran a new model in preparation for the 2015 World Championships and blitzed the field with a best time of 57.44 for 10 ½ laps.  He ended the weekend in first place with a score of 354.9.  Daniel Arapakis stepped up the pace and posted a personal best of 59.2.  He finished second with a score of 369.9.  Tom Wetherill was third with a score of 377.6.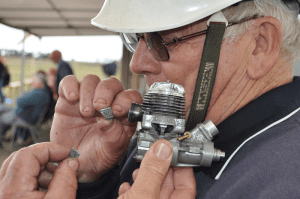 Attrition during the weekend was low overall.  However, Gary Davidson bore the brunt of any misfortune.  He had an impressive engine blow-up, creating a new ventilation system for his MB, as well as losing an F400 model.
In summary, a great weekend of racing and special thanks go out from VMPRA to the host Warrnambool club for use of their facilities, their hospitality and for their members who worked the course and served in the canteen.  Thanks also to Glenn and Nerida Matthews for running the timing system, to Toni and David Axon for working as starters, and the VMPRA members who worked the course during the weekend when they were not racing.
Check out the event photo gallery>>>
Results – FA1
Places:
1st Leigh Hocken
2nd Daniel Arapakis
3rd Tom Wetherill
Fastest Time: 57.44 – Leigh Hocken
No. of competitors: 7
Course – 10.5 Laps
Results – F400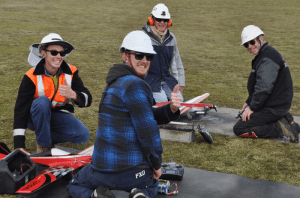 Places:
1st Shaun Jacobsen
2nd Glenn Matthews
3rd Jim Orenshaw
Fastest Time: 64.88 – Shaun Jacobsen
No. of competitors: 8
Course – 10.5 Laps
Results – Q500
Places:
1st Tom Wetherill
2nd John Schmidli
3rd James York
Fastest Time: 94.03 – Tom Wetherill
No. of competitors: 7
Course – 10.5 Laps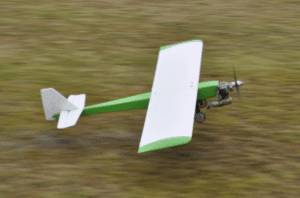 The following is how the season championship stands currently.
FA1
So now our AUST junior team representative has jumped up to the top position having displaced Glenn Matthews down to 2nd place.
1 – Daniel Arapakis
2 – Glenn Matthews
3 – Andrew Davies
F400 – Results
Glenn Matthews has jumped up to top position displacing both Andrew Davies & Brian Steele down to 2nd and 3rd respectively.
1 – Glenn Matthews
2 – Andrew Davies
3 – Brian Steele
Q500 – Results
Tom Wetherill has moved up another place from 3rd to 2nd with John Schmidli remaining in top place.
1 – John Schmidli
2 – Tom Wetherill
3 – James Hurley
Next Event
Unfortunately the Quickie/Sports event at Bacchus Marsh has had to be cancelled. Therefore the next event will be Cohuna on May 16-17, 2015
Check Out Complete Calender >>>
Event Report – Tom Wetherill.
Additional content – John Schmidli
Photos – John Schmidli and Tom Wetherill
The written content in this post is accurate to the best of my/our knowledge at the time of publishing. It is written from my perspective and reflects how I have experienced this event.
Photos published as feature images are selected purely for their quality, general interest or topicality. They are chosen from a pool of photos taken by myself and others when time permits.
If a perspective is not being represented, I am more than happy to publish any written content or photos that are supplied to me provided it is fair and reasonable.