Event Report
This will be a short report. I've been told to pretend that the weekend went off without a hitch but this was not quite the case. With already lower numbers than usual due to the many members that were in or on the way to Holland for the World Champs, the forecast of rain all weekend wasn't very encouraging.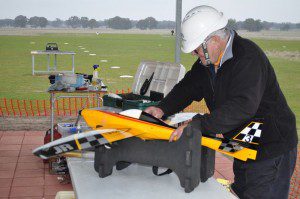 The reality was that we only flew 5 rounds of F400 on Saturday morning and 1 round of FA1 on Saturday afternoon before rain stopped proceedings and that was it for the weekend. There was no Q500 flown at all.
This meant that F400 was the only class that could be counted as a result.
F400
1st place – Andrew Davies
2nd place – James Hurley
3rd place – Daniel Arapakis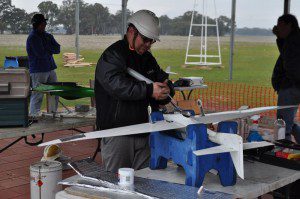 Season Championship
As a result of the washout, only F400 was awarded championship points with the exception of all entries for FA1 and Q500 being awarded 1 point each for entering.
This was the first event for the 2013 – 2014 Championship Year.
World Championships
As I write this, all the Australian and New Zealand competitors are in transit to Holland.
There are several ways of keeping in touch with what is happening.
Next Event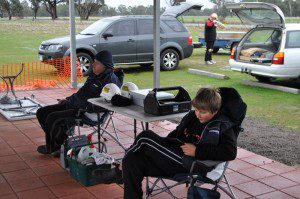 The next event is at Cohuna on August 17-18 and we are racing FA1, F400 and Q500.
We expect to run the VMPRA AGM and general meeting at the local motel on the Saturday night and this will take place following a spit roast dinner (TBC). VMPRA members will be notified when this has been confirmed. It is important to come along to the meeting and support pylon racing in Victoria
John Schmidli