The John Hughan Trophy event was held at Barry Murphy's field in Munro, VIC on the weekend of 28 February – 1 March 2015.  John was one of the founding members of VMPRA who had a great passion for pylon racing.
The dedicated pylon racing field was in excellent condition as usual.  Many competitors arrived on Friday to set up camp and to get some practice.  A number of friends of the competitors attended as well and helped out as course workers.  This support was greatly appreciated as regulars David and Toni Axon were attending the Avalon Airshow and Nerida Matthews was recovering from the flu.

The program for the weekend was to run eight rounds of F400 VIC, Q500 Sport and Formula Australia One (FA1), with 4 rounds being flown each day.  The FA1 rules allow use of both muffled and un-muffled pipes.  As per usual VMPRA practice, racing was over 10 ½ laps of the FAI course.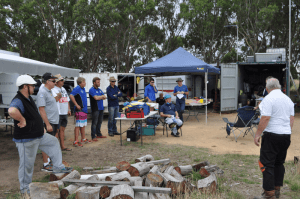 Saturday dawned warm and clear and the temperature and humidity were expected to be high.  After some test flying, the course was set up and racing got underway by mid-morning.
F400 VIC was the first event to be run and this class attracted a modest five entries.  There was close racing, but times were not very fast due to the calm and muggy weather conditions.  At the end of Saturday, Brian Steele was in first place and had posted the fastest time of 69.61 seconds.  Brian held a nine second lead over Glenn Matthews, who was followed closely by Andrew Davies.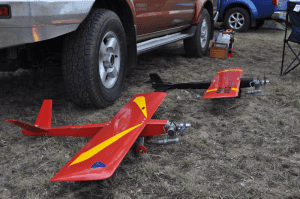 Q500 Sport was the next class to be run and this event attracted an impressive 10 entries.  The entry list included two father-son teams – David and Caleb Chippindall and Gary and Alan Whitbourn.  John Schmidli set the early pace with a time of 96.35, but at the end of four rounds he was in second place – 0.6 seconds behind Tom Wetherill.  A bit further back, Andrew Arapakis posted a personal best time of 107.86.  The Chippendall and Whitbourn families had their hands full running all their planes, but were enjoying the challenge.
In the afternoon FA1 was run and this class attracted nine entries.  Some of the regulars were away due to family commitments and saving gear for the World Championships.  The conditions were not conducive for fast times as the weather was hot, humid and there was no wind.  After four rounds, Barry Murphy was in the lead – approximately four seconds clear of Glenn Matthews.  Daniel Arapakis was 0.5 seconds behind in third and had posted the fastest time of 64.82.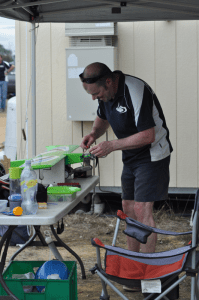 The calm weather was interrupted during the night as a major storm front passed through the area – making an interesting time for the camping contingent.  The following morning was cool and the gusty winds required that the course be reset before racing could begin.
The racing program was a repeat of the prior day, with F400 up first.  Brian Steele continued his form and finished first with a score of 425.1.  Glenn Matthews was second with a score of 436.2, closely followed by Andrew Davies with a score of 436.8.
In Q500, Tom Wetherill continued to post consistent times and finished first with a score of 587.7.  The Q500's were getting blown about in the wind and John Schmidli's effort was compromised by two heats with cuts.  He finished second with a score of 600.1.  Jim Orenshaw was third with a score of 627.2.  The family battles were won by David Chippindall and Alan Whitbourn, respectively.
The wind picked up throughout the day and the FA1's seemed to run much better in these conditions.  There was very exciting and close wing-tip to wing-tip racing.  In the end host, Barry Murphy finished in first place with a score of 385.3.  He was followed very closely by Daniel Arapakis in second place with a score of 385.9 – all the practice at this field for the upcoming World Championships was paying off.  Glenn Matthews was a close third with a score of 387.0.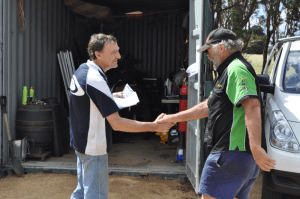 The times improved significantly over the prior day – with Barry Murphy posting the fast time of 60.89.  Notable FA1 performances were also put in by Gary Davidson flying an Evo NXT and Andrew Davies flying the ex-Arapakis Veyron.  The Veyron proved to be very competitive in its debut with Andrew at the helm, just edging Daniel for a 2nd faster time.
At the end of the day, the course was packed up and a prize-giving ceremony was held.  VMPRA expresses its appreciation to Barry Murphy for making the field available and for hosting the competition.  The VMPRA committee apologises for not having trophies available in time for handing out at this event.
Check out the event photo gallery>>>
Results – FA1
Places:
1st Barry Murphy
2nd Daniel Arapakis
3rd Glenn Matthews
Fastest Time: 60.89 – Barry Murphy
No. of competitors: 9
Course – 10.5 Laps
Results – F400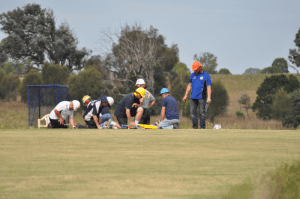 Places:
1st Brian Steele
2nd Glenn Matthews
3rd Andrew Davies
Fastest Time: 69.27 – Brian Steele
No. of competitors: 5
Course – 10.5 Laps
Results – Q500
Places:
1st Tom Wetherill
2nd John Schmidli
3rd Jim Orenshaw
Fastest Time: 96.35 – John Schmidli
No. of competitors: 10
Course – 10.5 Laps
Season Championship
As we start the 2nd half of the season championship, the following is how the top 3 positions sit.
FA1
Glenn Matthews remains in 1st place but Daniel Arapakis displaced Andrew Davies in 2nd place. Big mover, Barry Murphy jumped from 10th to 6th position with his win of this event.
1 – Glenn Matthews
2 – Daniel Arapakis
3 – Andrew Davies

F400 – Results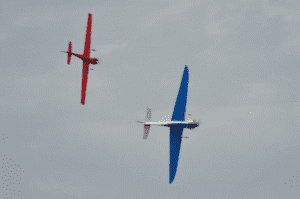 Similar movements in the order as for FA1, Andrew Davies remains in 1st position and Brian Steele displaced Glenn Matthews for 2nd place.
1 – Andrew Davies
2 – Brian Steele
3 – Glenn Matthews
Q500 – Results
There is no change in the order but Tom Wetherill is creeping up the points even though he has competed in 1 less event.
1 – John Schmidli
2 – James Hurley
3 – Tom Wetherill
 Next Event
The next event is at Warrnambool on the 28-29 of March and it looks like there will be a contingency from South Australia.
Check Out Complete Calender >>>
Event Report – Tom Wetherill.
Additional content  – John Schmidli
Photos – John Schmidli and Andrew Arapakis
The written content in this post is accurate to the best of my/our knowledge at the time of publishing. It is written from my perspective and reflects how I have experienced this event.
Photos published as feature images are selected purely for their quality, general interest or topicality. They are chosen from a pool of photos taken by myself and others when time permits.
If a perspective is not being represented, I am more than happy to publish any written content or photos that are supplied to me provided it is fair and reasonable.