The first full 3 class race for the year which happens to be the VMPRA Trophy, was held at Camperdown over the weekend of February 4 & 5. Camperdown is always great place to go racing and the local club, the Corangamite Model Aircraft Club is situated in the middle of a horse racing track.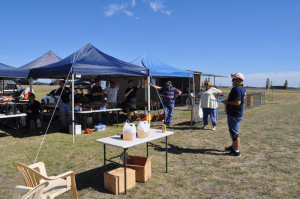 Weather for the Saturday was good although the sun was a bit warm and with concerns of possible rain on the Sunday, our CD for the weekend, (Mick Kellett) pushed to do 5 rounds of all classes on the Saturday. It was a long day with Q500 finishing after 5pm. After F3d finish and prior to Q500, we had to do a course change due to the wind direction shifting. At the end of the day, we had complete 40 races.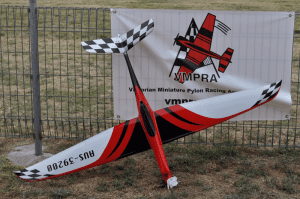 Sunday was cloudy and a little cooler. Another course change was required which took a little longer as the measuring line had fallen out of the trailer during the previous change and had to be found to set the pylons correctly.
We needed to complete 3 rounds of each class with rain and thunder forecast for that afternoon. F400 and F3D where competed by about 12:30. After a short lunch break, It all began to be a little challenging for Q500. With smallish numbers, and only 2 heats, we stay out at the flight line for refueling and service the planes to save time. A mid-air collation in the first heat, required a run back to the pits and assembling 2nd planes for Myself (John Schmidli) and John Yianni. The next race, James Hurley's Viper had the tail fail around 2 & 3. He then had to fetch a 2nd plane. Just as the 2 round was starting a short but very heavy rain storm came through stopping proceeding again. Shortly after, racing resumed and we worked through to the end.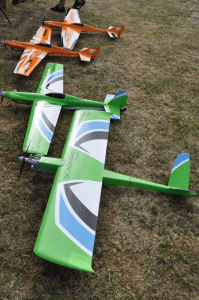 The course was packed up, trophies awarded and after saying a our goodbye, we got away before the rain arrived.
It was an enjoyable weekend and was particularly good to see our regular interstaters, Tom, Shaun & Jarrod Jacobsen and John Yianni from SA and Ranjit Phelan from NSW. It's big commitment to travel these distances.
Check out the event photo gallery>>> 
Results
Places:
1st Ranjit Phelan
2nd Leigh Hocken
3rd Shaun Jacobsen
Fastest Time: 58.69 – Ranjit Phelan
No. of competitors: 9
NOTE: There was not cut judge on Pylon #3 for this class all weekend. 
Class – F400
Places:
1st Shaun Jacobsen
2nd Andrew Davies
3rd Barry Murphy
Fastest Time: 68.75 – Shaun Jacobsen
No. of competitors: 11
NOTE: There was not cut judge on Pylon #3 for this class all weekend. 
Places:
1st Jim Orenshaw
2nd John Schmidli
3rd Jarrod Jacobsen
Fastest Time: 97.55 – Jim Orenshaw
No. of competitors: 7
NOTE: There was not cut judge on Pylon #3 for this class all weekend. 
No change for the top 3 for FA1.
1st – Leigh Hocken
2nd – Daniel Arapakis
3rd – Andrew Davies
Andrew Davies has moved up to top spot. Barry Murphy has moved up to 2nd position from 4th and Glenn Matthews is in 3rd position having been in 5th position previously.
1st – Andrew Davies
2nd – Barry Murphy
3rd – Glenn Matthews
Jim Orenshaw & Gary Whitbourn have remained in first and second places respectively with myself (John Schmidli) moving from 5th position up to 3rd position.
1st – Jim Orenshaw
2nd – Gary Whitbourn
3rd – John Schmidli
Check Out Season Championship >>>
Next Race
The next race on the calendar is back at Munro on March 18th -19th.
There has been a number of additions to the calendar so make sure you have these new dates penciled in to your diary so you don't miss any races.
Check Out Complete Calendar >>>
Event Report and Photos – John Schmidli
The written content in this post is accurate to the best of my/our knowledge at the time of publishing. It is written from my/our perspective and reflects how I/we have experienced this event.
Photos published as feature images are selected purely for their quality, general interest or topicality. They are chosen from a pool of photos taken by myself and others when time permits.
If a perspective is not being represented, I am more than happy to publish any written content or photos that are supplied to me provided it is fair and reasonable.