Event
On the week end of October 12-13 (2013) the VMPRA held the Victorian State Pylon Championships which was held in Hamilton. Ironically, this is the event that we see a good number of our South Australian friend come across to enjoy a great weekend of pylon racing. On the Friday afternoon when I arrived, there were more of the  SA guys at the field than Victorians. All up, there was 7 SA pilots plus a few partners along for the trip and calling.
There was quite a few of us camping over the weekend despite some dire weather predictions. It turned out to be a very pleasant spot to camp. The field at Hamilton was very green with plenty of grass and solid ground. No need for me to get towed out of the mud this time.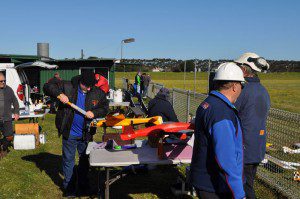 We had a great deal of help from the Hamilton members They manning #1 pylon and also number 2 & 3 pylons where manned all weekend. Along with the catering, the VMPRA were very grateful to the Hamilton members.
All weekend we had fairly windy condition with a threat of worsening conditions on the Sunday, so we managed to get 5 round of each class raced just in case Sunday racing was cut short. Yep… It was! F400 completed their 4 rounds on Sunday but Q500 was cut short and FA1 didn't get to fly at all. It's been a on-going theme since the new racing season started on July.
Results
FA1
This class being the Formula One of pylon racing and travelling at similar speeds, people who see this class for the first time can not believe what they are seeing.
Leigh Hocken was on form for this weekend after an early hickup in the form of a spectacular wing failure while practicing on Saturday morning. Gary Davidson also lost his model. He now knows where pylon #3 is as he hit it during a race.
We had a couple of pilots from SA flying in the class (Stuart Humpherson & Tom Jacobsen).
Places:
1st Leigh Hocken
2nd Barry Murphy
3rd Brian Steele
Fastest Time: 61.98 – Leigh Hocken
No. of competitors – 10
Course – 10.5 Lap
F400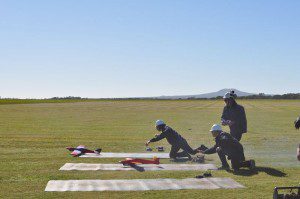 A good size field for this class with 13 compeditor of which 6 were from SA.
Mike Kellet lost his KD Racer (jnr) after he lost it around #1.
Places:
1st Glenn Matthews
2nd Andrew Davies
3rd Terry O;Connor
Fastest Time: 67.89 – Andrew Davies
No. of competitors – 13
Course – 10.5 Lap
Q500
Not my best weekend for this class as I went home with 2 broken models but all caused during dodgy landings. I think the was one less Viper after John Yianni crashed his. The Tee-Que 500 is now becoming the more prevalent Q500 model now. Daniel was flying his new Tee-Que on the weekend.
Places:
1st Tom Weatherill
2nd John Schmidli
3rd Daniel Arakakis
Fastest Time: 99:33 – Daniel Arapakis
No. of competitors – 9
Course – 10.5 Lap
Check out the results in detail
2013-2014 Season Championship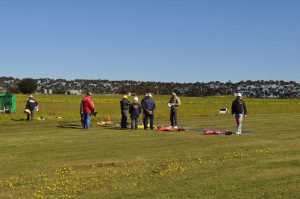 FA1 – Barry Murphy has consolidated his lead further now being 9 points in the lead. Brian Steele has jumped up to 2nd position and Gary Davidson has slipped one position down to 3rd.
F400 – Glenn Matthews and Andrew Davies are in 1st & 2nd place respectively on equal points and Gary Davidson is only 2 points behind them in 3rd place. This is a really close battle.
Q500 – I've (John Schmidli) increased my lead with Daniel Arapakis 6 points behind in 2nd place having  displacing Jim Orenshaw who is now in 3rd position.
Next Event
The next event is on November 23-24th and is back at Bazza's Paddock near Munro. This purpose-build pylon racing field is fantastic and we always enjoys racing there. I hope to see lots of competitors at this event. If you need to find out the location, as it's a private field, you can contact a member of the committee and we can give you directions. This is a great place to go pylon racing for the first time, so grab a Quickie model come along.
Another great chance to try pylon racing for yourself, is a club event at the LDMFA on November 10. Although not an official VMPRA event, this is open to anybody as long as you are a VMAA member. It will be a Q500, Sports & Electric pylon race (10.5 laps only). Visit the LDMFA site to find out more.
The championship table has been updated and there is also a photo gallery from this event.
John Schmidli (Report & Photos)
The written content in this post is accurate to the best of my knowledge at the time of publishing. It is written from my perspective and reflects how I have experienced this event.
Photos published as feature images are selected purely for their quality, general interest or topicality. They are chosen from a pool of photos taken by myself and others when time permits.
If a perspective is not being represented, I am more than happy to publish any written content or photos that are supplied to me provided it is fair and reasonable.