Gippsland as a region is famous for its agricultural development and has become Melbourne's largest supplying region of dairy and vegetables.
Munro pylon field has also grown to what most racers would consider one of the best fields of its kind in the country.

As always, the grounds were meticulously prepared by a local fishing tackle sales rep, Ian Rickard who devotes nearly every weekend at the strip working on a list of odd jobs and manicuring the bowling green run way!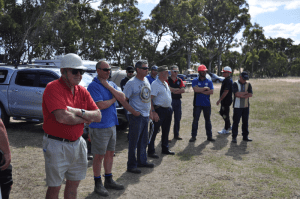 Race preparation began on Friday where several pilots took to the course for fine tuning in preparation of the last pylon event for the calendar year.
The day saw Master Murphy's and Dannmann with their Minute Master's out circulating in the 20 knotter and Beau rippen into his new Miss Dara F400 running in a fresh motor. The Miss Dara model was designed by Dan Kane who also designed the Polecat and Loki both also being extraordinary models.
Ranjit and Tricky Ricky test flew Ricks Veyron and all went well. Rick due to extended family commitments with the safe arrival of baby boy #2 Albert couldn't stay for the weekend show down. Unfortunately Phelans' new V Tail models came to grief with more development required.
The day ended with good spirits and plenty of Crownies with many pilots arriving setting up camp with a feast prepared by the Axons.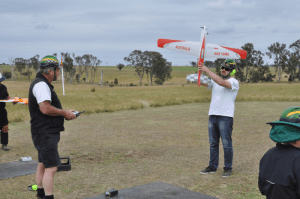 The fist race day plan was for 4 rounds of F400, Q500 then followed by F3D.
Willy Weather forecast for the weekend was for fine weather and Saturday morning was perfect for racing start at 9:45am of the F400 class. 10 entrants at his event with the podium hotly contested every month. Brain Steele and Andrew Davies the dynamic duo flew well all weekend proving out consistency was the recipe. Beau recorded the fastest time of the day and weekend with a 64.96sec. Jim and John managed to keep clear of each other as sometimes it seems an unfortunate magnetism exists between some models and pilots, Hmmmm.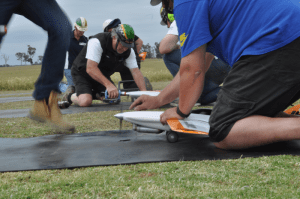 John Schmidli got all his times and Dannmann cutting him self out of the race after setting himself a target and pushing really hard for a record time! Great too see Frank back with the shiniest models ever unfortunately hitting terra firma after take off in his first heat. Pity as his plane was a ripper in practice but an upside for Father Christmas would be a new model order! An unexpected mid air between Barry Murphy and Andrew Davies saw both models return to ground with a broken prop on the Baz model and repair required on Batman's model.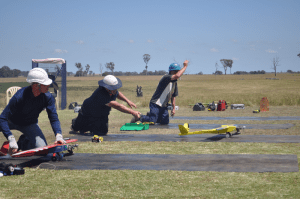 After 4 rounds of F400, the Quickie pilots were fueled up and ready to race. With 12 entrants and a variety of skills saw fantastic racing with a veteran Tom Prosser returning to Munro for his second Q500 event. Tom must have had fun at the last event at Munro with his custom built plane which is a master piece and scratch built. Unfortunately the Prosser and Axon models had a mid air but both pilots returning into the comp for the next round. Also a special mention to Tom Allen returning to the pylon scene after a stint of car racing with only his second event back, well in the mix with his best time of 100.50 sec only 0.57 sec of the fastest time of the event by Jim Orenshaw….no doubt Tom is on it and will be going real fast in the near future.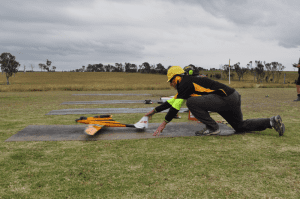 F3D up next albeit weather proving a little slow, Beau opened up with a respectable 59.8 sec which proved to be the quickest time of the event. Dannmann recorded 61.2 in first heat which was also his best time for the weekend. Mix results with all other pilots with Frank flying great but plug problems in resulting in a few 200's.
Day 1 ended with a very familiar garlic scent of charcoal grilling lamb, chicken and pork gyros followed by Narida's tiramisu and Toni's Christmas pudding. Camaraderie with all pilots attending the dinner was defiantly one for the record books and now the Saturday night event is almost part of the event calendar for most race weekends. All entrants this weekend stayed for the feast and many thanks to all helpers and to all cooks!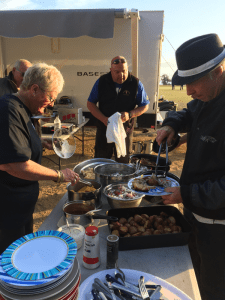 Late afternoon and evening affairs started with old timers, speed gliders and foamies. George Angelov certainly has his rocket master gold wings complemented the sky with rockets all landing safely with parachutes. Much fun by all.
After a dusty start to Sunday, the weather God's rolled up for the second day with perfect conditions and the F400's were on their way. The competitiveness of this class was very exciting to watch and well done to all competitors and place getters. John Schmidli again getting all his times with no cuts for the weekend will surely keep the ranks on their toes in months to come.
With Q500 scores very close after day 1, a number of pilots were well positioned to commence the days racing. Jim Orenshaw, Tom Allen and John Schmidli taking out the top three places this time round with many pilots in all placing all recording excellent times and PB's. Racing this class was great to watch as the very affordable models flown by entry level pilots had a great time and were also very competitive!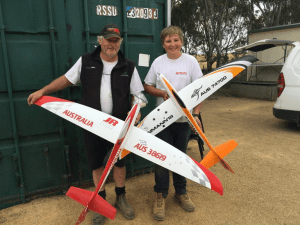 Grand finale premier F3D class was again a mixed bag something similar to a fishing trip in Western Port Bay! Again the weather a little slow with Beau recording the fastest time of the day of 61.76 sec, Baz flying very consistent this weekend and Andrew Davis holding it together to complete 8 rounds. Brian Steele alias Robin landed his F3D in a tree which took a mastermind of construction materials, Tarzan and luck to get his model back. Onya Brian!
Dannmann got all his times in for the weekend bar 2 cuts for the event ended up with the best average score to take out 1st place, 2nd Barry Murphy and 3rd Andrew Davies. Great to see Gary back in the air for 4th place and Beau in 5th due his last run a little rich resulting in a 200.
Check out the event photo gallery>>>
Results
Class – FA1
Places:
1st Daniel Arapakis
2nd Barry Murphy
3rd Andrew Davies
Fastest Time: 59.88 – Beau Murphy
No. of competitors: 8
Course – 10.5 Laps
Class – F400
Places:
1st Brian Steele
2nd Beau Murphy
3rd Ranjit Phelan
Fastest Time: 64.96 – Beau Murphy
No. of competitors: 10
Course – 10.5 Laps
Class – Q500
Places:
1st Jim Orenshaw
2nd Tom Allen
3rd John Schmidli
Fastest Time: 99.92 – Jim Orenshaw
No. of competitors: 12
Course – 10.5 Laps
The following is how the season championship stands currently.
1st – Daniel Arapakis
2nd – Glenn Matthews
3rd – Brian Steele
No change for the top 2, but Brian Steele has moved up to 3rd position
1st – Brian Steele
2nd – Glenn Matthews
3rd – Jim Orenshaw
Like FA1, No change for the top 2, but Jim Orenshaw has moved up to 3rd position
1st – Jim Orenshaw
2nd – John Schmidli
3rd – Andrew Arapakis
For Q500, there was no change for the top 3 positions.
Check Out Complete Calendar >>>
Season Fastest Time
There was only a new fastest times for F400 with Beau Murphy raising the stakes on his first time racing F400.
FA1 – Leigh Hocken – 57.38
F400 – Beau Murphy – 64.96
Q500 – Jim Orenshaw – 94.79
Next Event
The next event will be Camperdown on February 6-7, 2016. Make sure you have this and all the currently listed events marked in your calendar.
Another date to remember is the Sandown F1 Air Race to be on January 31, 2016 which includes a general remote control hobbies expo. The VMPRA will have a stand there and we will also have some members involved in flying displays throughout the day. There will be a number of us manning the stand and promoting the pylon racing special interest group.
http://www.sandownairrace.com.au/
On a final note for the year, I wish everybody all the best for the Christmas and New Year break and that we all return to racing again next year refreshed, ready for some great competition and good times.
Event Report and Photos– Anonymous
Additional information: John Schmidli
Photos – John Schmidli & Andrew Arapakis
The written content in this post is accurate to the best of my/our knowledge at the time of publishing. It is written from my perspective and reflects how I have experienced this event.
Photos published as feature images are selected purely for their quality, general interest or topicality. They are chosen from a pool of photos taken by myself and others when time permits.
If a perspective is not being represented, I am more than happy to publish any written content or photos that are supplied to me provided it is fair and reasonable