After the Christmas new year break, our minds are now turning back to pylon racing again (as if it wasn't before!). I hope everybody had a good break and feel recharged for the year ahead.
Sandown F1 R/C Air Race – Jan 11, 2015
There were a group of us from the VMPRA who attended this event to man a static display of various pylon racers, talk to interested people and hand out information about the VMPRA. There were a lot of familiar faces and it was good to see quite a few VMPRA members had also come along to have a look.

Part of the flying displays that a good size crowd gathered in the grandstand to watch, was Chris Callow flying an F3D model (Veyron) who along with his dad, Kevin, had come down from Queensland. Together they put on a stunning display which from my perspective (and a good percentage of the crowd) thought were the highlights of the day.
The weather conditions, although not the rain that had been forecast earlier in the week, was sunny but very windy. To make things difficult, pilots flying the displays had to take-off and land on the Pit-Straight bitumen surface with a strong cross-wind. There were quite a few incidents as a result of the cross-wind.
There was also a demonstration of a Great Planes Viper that was kindly donated by Dawn Trading (http://www.dawntrading.com.au) along with an engine that was also kindly donated by R/C Headquarters – Werribee (http://www.rcheadquarters.com.au/). Unfortunately the Viper was one of those victims of the strong wind conditions and was only flown once by our president, Glenn Matthews.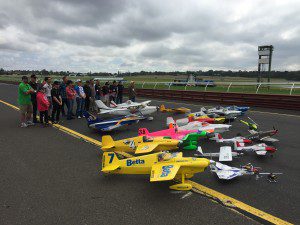 The event was conceived and put together by Steve Green and a whole team of helpers. It was for the promotion of Remote Control hobbies in general and featured more than it's fair share of R/C aeromodeling. The ground floor of the grandstand was packed with retailer and special interest group displays. There really was a good crowd. Outside there were flying displays and the main attraction was the large scale F1 air racing. With the strong winds and a mishap with a seagull, the F1 planes were decreasing in numbers throughout the day. When you see how many people where in the stand watching them race, I can only imagine the crowd's reaction to seeing 4 F3Ds racing in front of them. Now that would be something.
At the VMPRA stand, we talked to a lot of people and quite a few were showing interest. I think being involved in this event was very worthwhile and it was a great opportunity to promote R/C aeromodeling and specifically, Pylon Racing.
For more info – Sandown F1 Air Race
Check out the event photo gallery>>>
Next Event
The next event is Camperdown on Feb 7-8, 2015 which at time of publishing is less than 3 weeks away. This one isn't to far from Melbourne and is alway a good first event for the calender year. Looks like people are mainly staying at the Motel or the camping group which is a prime location for some slope soaring after the day's racing. See you there.
Check Out Complete Calender >>>
Come and Try – Pylon Racing
The week after Camperdown, there is a Q500/Sports pylon race at the Lilydale Club, (LDMFA). Although not a VMPRA season championship event, it is a perfect chance to try pylon racing for the first time or improve your skills at flying around the pylon course.
So if you want to have a go, bring along a sport model, trainer or the like and join in the fun. Racing will begin at 10am but allow plenty of time to setup and test fly your aircraft.
Report – John Schmidli
Photos – John Schmidli and Andrew Arapakis
Editing/Proof reading – Caroline Schmidli
The written content in this post is accurate to the best of my/our knowledge at the time of publishing. It is written from my perspective and reflects how I have experienced this event.
Photos published as feature images are selected purely for their quality, general interest or topicality. They are chosen from a pool of photos taken by myself and others when time permits.
If a perspective is not being represented, I am more than happy to publish any written content or photos that are supplied to me provided it is fair and reasonable.