On July 5, 2015, the VMPRA held a Q500 and Sports pylon race at Werribee. Despite some pretty ordinary weather leading up to this day, the Sunday turned out to be a clear, mostly sunny day. Some stronger winds picked up in the middle of the day but dropping off again towards the end.


The Werribee Model Aircraft Association members were very welcoming and did a great job of manning pylon #1 and the catering.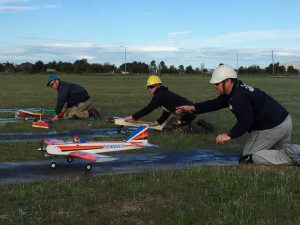 There was quite a good group of competitors assembled especially considering some regular Q500 pilots being over in the Czech Republic for the F3D world championships.
There were 9 Q500 pilots and 4 sports pilots. The sports planes were a mix of a Trainer, Stik, EF-1 Pogo and a sports Q500 model.
Check out the event photo gallery>>>
RESULTS – Q500
Places:
1st Ian Haigh
2nd John Schmidli
3rd James Hurley
Fastest Time: 90.83 – Andrew Davies
No. of competitors: 9
Course – 10.5 Laps
NOTE: There was no cut judges on pylons #2 & #3.
RESULTS – Sport (including EF-1)
Places:
1st George Angelov
2nd Grant Collins (46 size Trainer)
3rd Alan Swift – EF-1 racer
Fastest Time: 106.13 – George Angelov
No. of competitors: 4
Course – 10.5 Laps
NOTE: There was no cut judges on pylons #2 & #3.
Season Championship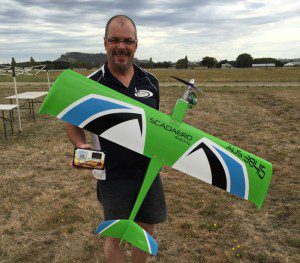 This was the last event for the 2014-2015 season championship for Q500.
The final standing are:
1st – John Schmidli
2nd – James Hurley
3rd – Jim Orenshaw
John Schmidli won this championship for the 3rd year running with team mate James Hurley slipping into 2nd place and with Jim Orenshaw being in the Czech Republic, he managed to  hang onto 3rd Place. Congratulations to all the place gets.
Trophies will be presented at the AGM to be held on August 1, 2015 at the Marong (Bendigo) event. This event will be the 1st of the new season so it's a big reset and the championship is open for all to participate in.
F3D World Championship – Czech Republic – July 7-11, 2015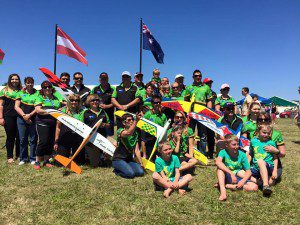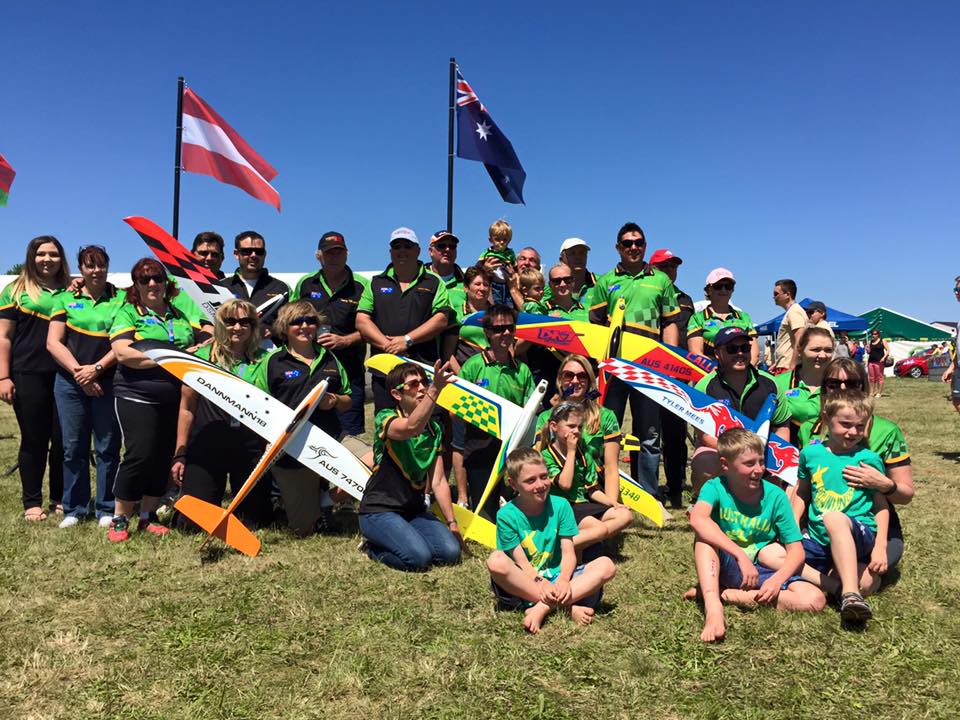 There has been a huge build up and preparation for all the competitors for this year's world championship for the F3D pylon racing class. A good size contingent of pilots, callers and support crews and family members where there for the Australian and New Zealand teams.
It was fascinating watching the live web cams, as we could see a little of what was going on and tanks to all who sent photos, reports and snippets of information back for us to enjoy.
Congratulations to all who participated. Although conditions looked to be tough, well done to the Australian team for their 2nd place.
Check Out Individual Results>>>
Final Team Places
Team AUSTRALIA – 2nd Place
Team NEW ZEALAND – TBC (unkown at time of publishing)
Individual Places
Chris Callow – 5th Place
Leigh Hocken – 8th Place
Tyler Mees – 12th Place
Bea Murphy – 14th Place
Daniel Arapakis – 3rd Place (Junior Competition) & 22nd – Senior Place
Tom Wetherill – 32nd
Our next race event is at the Marong field near Bendigo on August 1-2, 2015. This will be the 1st event for the new 2015/2016 championship season and there will also be our AGM on the Saturday night which is usually held at the caravan park. More details will be posted closer to then.
Check Out Complete Calendar >>>
Event Report  – John Schmidli
Photos – John Schmidli
The written content in this post is accurate to the best of my/our knowledge at the time of publishing. It is written from my perspective and reflects how I have experienced this event.
Photos published as feature images are selected purely for their quality, general interest or topicality. They are chosen from a pool of photos taken by myself and others when time permits.
If a perspective is not being represented, I am more than happy to publish any written content or photos that are supplied to me provided it is fair and reasonable.