Back on October 24-25 we held our VIC State Championships at Hamilton. Once again, it was great to have the South Australians come across to race with us. Without them, the numbers would've been on the low side.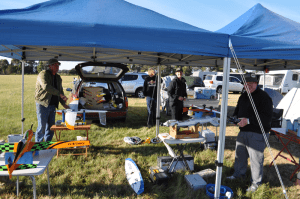 On Friday, the weather was spectacular as everybody arrived and testing and setting was carried out. I heard that Shaun Jacobsen even was having a go at one of Daniel's Minute Masters as Shaun in leading up to joining the ranks of F3D fliers.
Saturday morning arrived with more great weather. After setting up the field, we were off racing with F400 first up. Numbers were quite good for this class (13 competitors) flying including Daniel Arapakis and John Schmidli back flying this class again.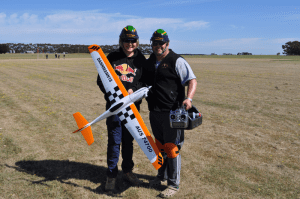 Four rounds of F400 was raced before commencing Q500 racing. Numbers for this class where on the low side so as per usual practice, we all go out to the start line with the drum of fuel and do all our refueling out on the line. This makes the turnaround between heats a lot faster. It was great to see Tom Allen there racing as he returns to pylon racing after many year away with his beautifully finished Banshee Sport Q500 racer.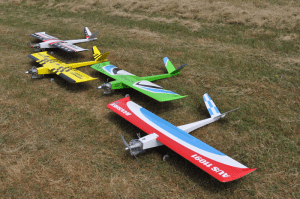 There were four of these Banshee Sport Q500 models for the first round. Unfortunately Jim Orenshaw and John Schmidli had another coming together while going around pylon #1. This is the third time this year they've collision with each other. Unfortunately this was the first race that Jim had with his brand-new Banshee Q500 model which was a replacement for his previously mid-aired Q500 plane. John Schmidli was luckier this time, with only sustaining wingtip damage and a broken propeller and was able to glide in for a landing. Four rounds of this class which was completed.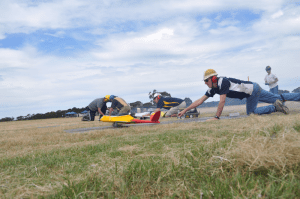 Next up was F3D, the premier class that we race. It was our intention to fly this class for as many rounds as possible as we had a feeling the weather for the following day would not be so kind. We manage to run 6 rounds of this class before finishing up for the day. It was great to have helpers from the Hamilton club manning the #1 pylon cage as well as pylon 2 and 3 Judges.
The Hamilton club members also provided a canteen throughout the weekend including a big fry up breakfast for the Sunday morning. This was greatly appreciated.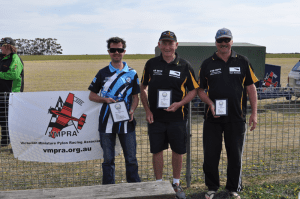 As feared,  when we arrived at the field on Sunday morning, conditions were very windy. We set up our planes hoping that things will settle down but as time to start arrived, there was no action happening.
After quite a time of waiting to see what the conditions would bring, it was decided that there would be no flying that day which meant the competition would only consist of the rounds flown on the Saturday. Four rounds of F400, four rounds of Q500 and six rounds of F3D.
Check out the event photo gallery>>>
Results
Class – FA1
Places:
1st Leigh Hocken
2nd Tom Wetherill
3rd Andrew Davies
Fastest Time: 59.10 – Daniel Arapakis
No. of competitors: 8
Course – 10.5 Laps
Class – F400
Places:
1st Shaun Jacobsen
2nd Brian Steele
3rd Andrew Davies
Fastest Time: 66.91 – Shaun Jacobsen
No. of competitors: 13
Course – 10.5 Laps
Class – Q500
Places:
1st Jim Orenshaw
2nd John Schmidli
3rd Andrew Arapakis
Fastest Time: 94.79 – Jim Orenshaw
No. of competitors: 7
Course – 10.5 Laps
Season Championship
The following is how the season championship stands currently.
FA1
1st – Daniel Arapakis
2nd – Glenn Matthews
3rd – Tom Wetherill
The top 2 positions remains the same but Tom Wetherill has jumped up to 3rd position from 5th.
F400
1st – Brian Steele
2nd – Glenn Matthews
3rd – Shaun Jacobsen
Like FA1, the top 2 positions remained the same but Shaun Jacobsen jumped up to 3rd position also from 5th.
Q500
1st – Jim Orenshaw
2nd – John Schmidli
3rd – Andrew Arapakis
Again, the top 2 positions remained the same and Andrew Arapakis has moved into 3rd position from 4th.
Season Fastest Time
There was a new fastest times for F400 and Q500 at Hamilton. Well done Shaun Jacobsen and Jim Orenshaw.
FA1 – Leigh Hocken – 57.38
F400 – Shaun Jacobsen – 66.91
Q500 – Jim Orenshaw – 94.79
Next Event
The next comp is also the last one for the year and will be held at Bazza's Paddock at Munro on November 28 and 29. Come along and have a great time racing at this greta venue. There won't be another event until early in February 2016 at Camperdown.
Make sure you check the new events that are listed in the Event Calendar and put them in your diary.
Check Out Complete Calendar >>>
Event Report  and Photos– John Schmidli
The written content in this post is accurate to the best of my/our knowledge at the time of publishing. It is written from my perspective and reflects how I have experienced this event.
Photos published as feature images are selected purely for their quality, general interest or topicality. They are chosen from a pool of photos taken by myself and others when time permits.
If a perspective is not being represented, I am more than happy to publish any written content or photos that are supplied to me provided it is fair and reasonable.